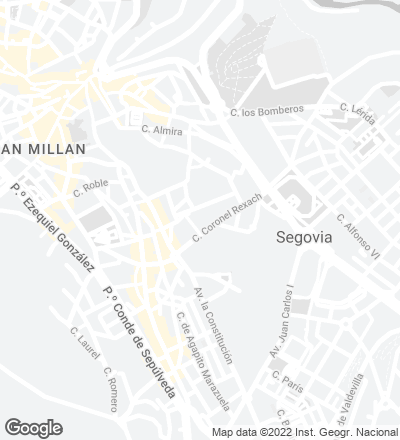 The building completes the Campus of the University of Valladolid in Segovia – where phase I was finished in 2011 –, rounding off the program with specific classrooms for the degrees offered on campus, offices, and two auditoriums (main auditorium and graduation hall).
Between phases I and II of the campus there is an interior, two-level street: a 'spine' that opens up the plot of the old military barracks dividing the building into two parts, enabling a connection between the existing city fabric and the grounds of the old barracks where the new construction will go up. This 'spine' connects the two project phases, functioning as a transversal bridge of union.
Typologically the building is a 'double comb' along the perimeter, facing Caño Grande street on one side and Coronel Rexach street on the other. The two representative volumes – the auditoriums – sit along the central axis, as does the library in phase I. These volumes, which could be described as large wood boxes, are separated by toplit, high-ceiling spaces that assert their formal independence and functional relevance. The volumetric autonomy is strengthened with the space that runs below the main auditorium. This space is reached through the 'agora' or covered plaza of phase I, rounding off the itinerary below the auditorium with stately stairs leading to the graduation hall, a high-ceiling space clad with wood and bathed by top light.
The blocks of classrooms and offices are illuminated and separated by planted courtyards. The classrooms are at courtyard-level, and the two upper floors accommodate offices. The difference in width with regards to the classrooms allows placing ring corridors around the offices. The center of the ring is occupied by glass-enclosed spaces for tutoring and small interior courtyards that let natural light reach the classroom corridors. The colors and textures are warm, with the timber finishes, and black is used as neutral color to match that of wood and letting it stand out.
The facades show a very different character onto the streets and onto the planted courtyards. Towards the courtyards they acquire a more domestic character, with a facade of windows and a neutral dark gray tone. Towards the urban space the character is more abstract, establishing a repetitive and vertical rhythm that continues that of phase I. Also built in precast concrete, the typical gray tone is avoided on the facades, which adopt the warmer hues of the ground...[+]
Cliente Client
Universidad de Valladolid
Arquitectos Architects
Ricardo Sánchez / José Ignacio Linazasoro
Colaboradores Collaborators
Hugo Sebastián de Erice, Andoni Garrán, Alba Troitiño Bernal, Irene Campo Sáez, Laura Corrales
Consultores Consultants
José Luis Muñoz Vicente (arquitecto técnico quantity surveyor); Pejarbo (estructuras structures); eadAT Ingenieros (instalaciones mechanical engineering)
Contratista Contractor
OCIDE; Cortizo (carpinterías aluminio, muro cortina y panel composite aluminum joinery, curtain wall and composite panel)
Superficie Floor area
11.000 m²
Presupuesto Budget
11.000.000 €
Fotos Photos
Roland Halbe