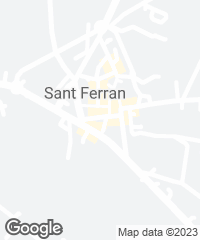 The project Life Reusing Posidonia was born with the objective of supplying verified data to the administrations responsible for regulating the environmental impact in the building sector. The model complex consists of 14 subsidized dwellings in Sant Ferrán (Formentera), in which formulas have been tested to reduce the ecological footprint, monitoring its performance, with these results: -63% of CO2 emissions during construction (412 kg CO2/m² instead of the 1,128 of an equivalent structure built with conventional systems; -75% of usable energy in the building's life cycle (maximum consumption 15 kwh/m²/year); -60% of water consumption (88 l/per person and day); and -50% of waste production (35.18 t).
All the dwellings have two bedrooms and living-dining-kitchen spaces with double orientation. They also enjoy cross ventilation towards the dominant winds – North and East sea breeze –, and large glass surfaces and south-facing skylights to warm up the houses in winter, accessible, and with solar protection. In winter the constant temperature indoors is 21-22º without turning on the heating.
Traditional architecture is the main reference, not just formally, but in the way of working. The process starts with the search for elements from the island that can be used. The savines, with which slabs were built in the past, are protected, and the 'marés' quarries are empty. Only what arrives by sea can be used: posidonia and boats (and the pallets that remain on the island because it is expensive to ship them). The project proposes a change in concept: "Instead of investing on a chemical plant located 1,500 kilometers away, we will allot the same budget to hire local, non-expert workers, who have to lay the posidonia out in the sun to dry it, and compress it in pallets, obtaining 15 centimeters of roof insulation. Sea salt will serve as a natural biocide, and the product will be completely ecological because there is no industrial process." 
Local materials such as pallets or frames from the Fundación Deixalles are reused in the construction. The structure consists of load-bearing walls with non-reinforced limestone, the same technique Romans used.
The project links heritage, architecture, and climate change, showing how the most adequate systems in environmental, social, and economic terms are very close and are endangered: the local, ecologically-produced crafts industries that use readily available materials are an ethnological heritage that needs to be protected. 
The organization of spaces and the formal decisions are a result of knowing the advantages and limitations of those materials, more fragile because they are natural. This fragility, however, becomes a design opportunity.
Cliente Client
Instituto Balear de la Vivienda (IBAVI)
Arquitectos Architects
Carles Oliver, Antonio Martín, Joaquín Moyá, Alfonso Reina
Consultores Consultants
Miguel Nevado (estructura structure); Alberto Rubido, Joaquín Torrebella (control económico obra construction management); José Luis Velilla Lon (aparejador quantity surveyor); Miquel Ramón Oliver, Esteve Font (EEI) (ingeniería engineering); Joan Muñoz, Tomeu Alorda, Cristian Carmona (UIB) (ensayos de posidonia y monitorización edificio posidonia tests and building monitoring); Societat Orgànica +10 SCCL (consultoría ambiental environmental consulting); Carles Oliver, Joana Reus, Alberto Rubido, Mª Antonia Simó (cálculo CO2 CO2 calculation)
Superficie construida Floor area
1.088,99 m²
Presupuesto Budget
1.420.000 €
Fotos Photos
José Hevia