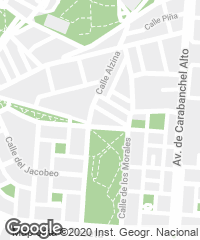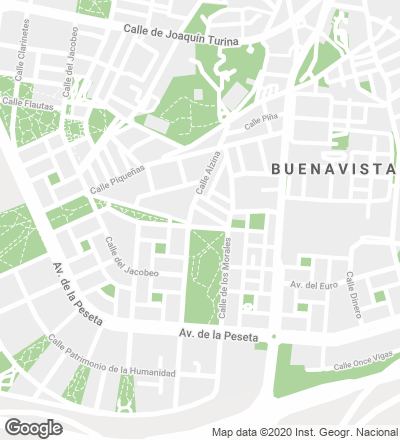 This building in the Madrid district of Carabanchel goes up on a plot that fills and wraps up the city fabric in a zone close to the M-40 ringroad. The essential guidelines of the project were determined by the characteristics of the site, a hinge-shaped plot of land that connects the new area of urban development with the fragmented and torn fabric of the city center. Thus, the buildings raised on a whole series of plots are meant to 'sow up' the existing edgesof the city, blurred edges, with the bold new development. Settled in the direction of the new Carabanchel Alto avenue, the plot belongs to this set of bordering sites.
The organization of the volumes departs from the alignment of the assigned plot. The adopted solution manages to generate semiprivate courtyards, drawn up as secluded spaces but in contact with the city at the same time.
On the other hand there is a second characteristic, even more important, which is the presence in the southern side of a new urban park that descends practically all the way down to the edges of the M-40. In a dense environment this aspect gives the building a unique character.
Both in its organization and in its scale the project is determined by the features of its context, and this is clear in the organization of the volumes. Thus, one block moves up to the edges of the plot and three more are placed perpendicular to the first. The interior has been designed in accordance with two dwelling types that address the specifications of the program.
The block along the edge of the plot contains a dwelling type with a bay measuring 11,40 meters, organized around a central backbone that contains the services. With a clear and orderly modulation of the structure, this distribution separates the bedroom areas, oriented towards the north, facing the interior garden, from the kitchen and the living room, which takes up most of the surface. 
On this side the internal glazed skin that covers the block along its more public facade is set back. With this gesture it is possible to generate terraces open to the park, the views and the south. The opposite facade has been designed to facilitate the union or separation of the bedrooms, thereby highlighting the versatile character of the dwelling and the possibility of changing its functions.
The transversal blocks have a bay measuring 9,30 meters, with duplex apartments in which the lower floor contains the kitchen and living area and the upper floor the bedrooms. In this case the dwellings come out into the landscaped spaces generated among dwellings, closing up to the western orientation and opening up to the east.
Cliente Client
Empresa Municipal de la Vivienda
Arquitectos Architects
Juan Carlos Sancho, Sol Madridejos
Colaboradores Collaborators
Marta Toral, Patricia Planell, Emilio Gómez, Javier Moreno, Ana Guasp, Dorthe Schacht; J. Ramón Parrondo, Alfredo Lozano
(aparejadores quantity surveyors)
Consultores Consultants
H.C.A, María Jesús Izquierdo (estructura structure), 3i Ingeniería(instalaciones mechanical engineering)
Contratista Contractor
Fercaber
Fotos Photos
Hisao Suzuki