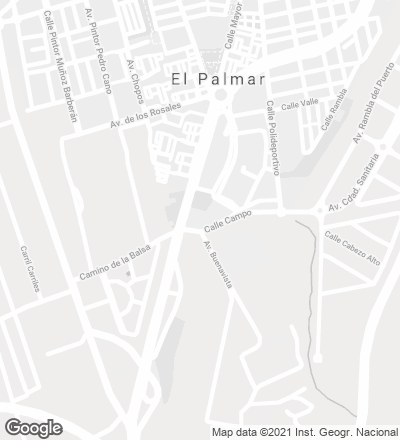 Farming fields, palm tree plantations, cypresses and other typical specimens of the Mediterranean vegetation compose a landscape that, on the city outskirts, surrounds the hospital of La Arrixaca. On an plot next to it, a building for the Faculty of Medicine of the University of Murcia has been raised: a pavilion whose hermetic and compact volumetry serves to set it apart formally from the neighboring medical complex. The project thereby proposes a neutral, abstract and independent box that adopts a rectangular plan, located by the access to the premises as a clear stone parallelepiped from which several voids have been extracted.
Two bays of different height constitute the academic pavilion, attached to one another by a longitudinal axis of restrooms and circulation systems. With its main axis aligned with the east-west orientation, the lower volume houses the common facilities: the cafeteria and the assembly hall occupy the ground floor to facilitate the access to a large number of people, while the library is located on the first floor in search of a more peaceful environment detached from the flow of users.
Located on a corner next to the access to the medical premises, the academic pavilion sets itself apart formally from the brick architecture of the hospital with a stone cladding and a hermetic and compact volume.
Parallel to this band of public character, a second volume of four heights houses the classrooms on the first floor and the department offices on the upper levels, forming a comb-shaped structure that alternates the built prisms with courtyards of the same size. The main volume is thereby pierced by voids that generate towards the interior spaces of different scale and quality, in a sequence which meets its high point in the lobby, a stepped space tautened between the 9 x 9 x 9 meter setback that from a distance marks the access on the northern facade and the 15 x 15 x 15 meter courtyard of the southern bay.
Acting as a hinge between one and the other, a narrow crack of vertical proportions covers the full height of the building to house the stairs and illuminate the central circulation system of each floor from a roof skylight.
The courtyards are extracted from the main volume as voids limited by planes of glass silk-screen printed in a golden color with the structure of the stone used in the opaque areas.
The materials used in the construction underline the compact character of the building of the Faculty of Medicine, putting at a distance the hospital's brick enclosure. Aside from the stone that clads the opaque walls, the glass that closes the openings is protected with a second layer of silk-screen printed glass – in a golden tone – that reproduces the stone structure used in the building, in a gesture that tries to accentuate the double condition – at once physical and immaterial – of the glazed planes
Cliente Client
INSALUD
Arquitectos Architects
Miguel A. Alonso del Val, Rufino Hernández, Juan Carlos Sancho, Sol Madridejos
Colaboradores Collaborators
J. Barcos, V. Hernández, S. Iturralde, M. Escartín, J. A. Garrido, L. Renedo, P. Planell, J. Moreno; Michel Aldaz, Mariano García(aparejadores quantity surveyors)
Consultores Consultants
GE (instalaciones mechanical engineering); HCA (estructura structure)
Contratista Contractor
Fomento de Construcciones y Contratas; Cricursa (vidrio glass); Carpintería y Bricolaje (carpintería de madera woodwork)
Fotos Photos
Hisao Suzuki