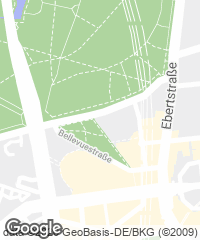 This ten-story apartment building goes up in front of the Tiergarten park, in one of the most central areas of Berlin. This intervention finishes the northern edge of the urban complex of Beisheim (with a hotel, offices and housing), rounding off the process of development of this urban area, a process that started out with the competition launched in 1991, after the fall of the Berlin Wall.
The floor plan of the building follows a U-shape in order to adapt to the configuration of the plot. Its interior angles accommodate the cores of staircases, each with two elevators. The ground floor has shops at its ends, and a restaurant and a cafeteria on either side of the main entrance. Located in the central area of the longer side, the entrance provides access to a double-height hall, whose walls have an elegant cladding; this is a T-shaped space – with a 24-hour concierge service like in the upscale American buildings –, which is connected through large windows to the private garden.
The ten stories of the building contain 36 apartments whose surface area ranges from 150 to 200 square meters. The developer demanded a high degree of flexibility in the design of the floor plans so as to satisfy the different needs of the future tenants. As a reflection of this, the facade of the building is configured through the arrangement of French windows, balconies and loggias, elements that are placed in different ways and thus show the personalized distribution of each apartment. This casual organization of the facades contrasts with the rigid volumetry of the building, trying to generate an open and sculptural distribution. Along with the flexibility, the design of the apartments has free-flowing spaces in which green areas may become a constant presence. The ninth floor contains duplex apartments with a large balcony and superb views of the surroundings.
The main material of the facade is gray limestone with light traces of iron oxide, giving the building a compact and monolithic character. This impression is reinforced with the rounding of the angles at the corners of the street. Pieces of stone measuring 4 centimeters-thick are used with a smooth matt finish, placed to form an assembly of uneven rows of great precision at the joints. Both in its design and in its finish, the building extends with great refinement the traditional use of stone cladding that still prevails in the architectural context of Berlin... [+]
Cliente Client
IMMAGO Real AG
Arquitectos Architects
David Chipperfield
Colaboradores Collaborators
Francesco Apuzzo, Christoph Bartscherer, Annette Flohrschütz, Michael Freytag, Dirk Gschwind, Amelie Haacke, Andrea Hartmann, Klaus Heldwein, Daniel Keppel, Karolina Markus, Marcus Mathias, Lisa Obertautsch, Christof Piaskowski, Antonia Schlegel, Mark Randel, Franziska Rusch, Tatiana von Preussen, Thomas Wiedmann
Consultores Consultants
Theodor Klein/Mario Vogelsang (estructura structure); Ridder & Meyn/Carsten Thomas, Falk Melzer (instalaciones mechanical engineering); Thomanek & Duqeusnoy/Ralf Meißner (paisajismo landscaping)
Fotos Photos
Christian Richters