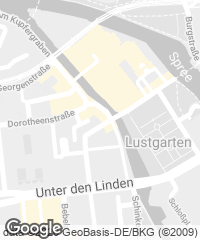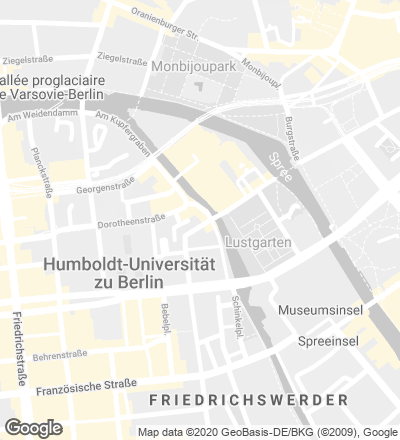 This art gallery is located on number 10 of Berlin's Kupfergraben canal, overlooking the Lustgarten, a park presided by the Altes Museum by Schinkel and the Museum Island. The intention was to build a modern building which incorporated but did not replicate the past. As part of the cityscape, the composition of the four-storey gallery building reacts to its immediate historic context, while the scale of its window openings reflects the urban dimensions of a corner building.
As an urban infill, the new building connects with both of its neighbouring buildings with regard to their respective building heights and occupies the footprint of the preceding building (destroyed during the war), while at the same time developing its own sculptural quality. The facades are of brick masonry on reconstituted stone courses with no visible expansion joints, using salvaged bricks pointed with slurry, which gives the surface an interesting texture in ocre tones that reacts to sunlight. This arrangement rests at regular intervals on concrete courses that structure the composition and place the gallery in relationship with the cornice lines of the adjacent historical buildings. Large window openings reflect the urban scale of the site and define the composition of the facade, given structure by their untreated wooden sashes. They also provide extraordinary views over the monumental complex of Berlin. In contrast, the facade that looks onto the courtyard is entirely enclosed with glass and wood, generating a more domestic image than the exterior ones in spite of the repeated series of windows that cover its surface. The structure of the complex is made out of reinforced concrete.
While solid materials that will age well characterise the exterior of the building, the interior is defined by daylight and proportion. The building cores organise the space of the 5.5 metre high rooms. The floor plan, consisting of a simple scheme of longitudinal bands, varies throughout the four storeys depending on the form of the volume and the placement of the window openings. The gallery spaces are side lit from different directions, and daylight is controlled by interior folding shutters.
The intention was to create a series of well proportioned and well lit rooms for living, working, or showing art – in a townhouse dedicated to the arts and directly related to the cultural heart of the city and with history.
Cliente Client
Céline and Heiner Bastian
Arquitectos Architects
David Chipperfield Architects
Colaboradores Collaborators
Martina Betzold, David Chipperfield, Laura Fogarasi, Andrea Hartmann, Hannah Jonas, Barbara Koller, Harald Müller, Elke Saleina, Alexander Schwarz
Consultores Consultants
BAL Bauplanungs- und Steuerungs GmbH (dirección de obra site supervision); Ingenieurgruppe Bauen (estructura structural engineer); JMP Ingenieurgesellschaft mbH; KMS Beratungs- und Planungsgesellschaft mbH (instalaciones service engineers); Nanna Fütterer (aparejador quantity survayor); Dreßler Bau GmbH (cerramiento shell construction)
Fotos Photos
Ioana Marinescu, Christian Richters