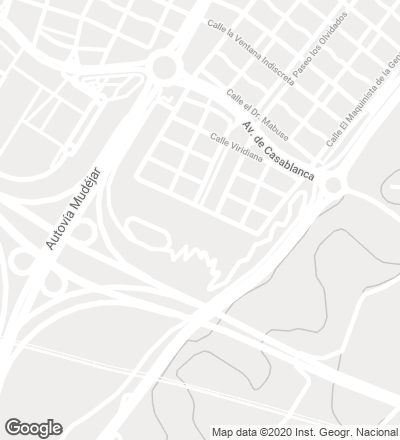 On the southern border of the city, between a new residential area and the Z-40 beltway, the project addresses the conditions of the place. The plot initially had an area of 60,000 m² for all educational stages, with an unevenness of almost 20 meters, descending towards the only street of access, on the north side.
The idea of building a gathering place, capturing a part of the environment to create a space adapted to the child's capacities, comes from the central piazza model developed in the Italian municipal schools of Reggio Emilia, where all the spaces are laid out around the piazza.
Located on the edge  if the urban periphery,  in an area of housing blocks by the beltway, the project trusts in architecture's capacity to transform an inhospitable territory into an inhabitable place. 
The need for a covered itinerary along a ramp from the courtyard to the dining room becomes an opportunity to wrap up the perimeter of the courtyard along its northern side, by providing a functional argument to make the operation necessary within the strict practical and economic conditions. The project is organized on one floor and is characterized by its horizontality and by the importance of the ceiling's extension, which configures a large porch towards the courtyard, structurally held by traction via cantilevered platens in the upper area. The roof, main image of the center from the houses, rises – following a curved line – on its west and east end, coinciding respectively with the greater height that the multipurpose room and the dining hall demand.
The interior layout is based on the different spatial perception of children and their teachers. The circulation spaces, tracing curved itineraries, are visually connected with the spaces for children with round windows at different heights. Outside, the use of different colors and textures (colored floors, cork, grass and trees) creates a variety of spaces for play.
The school follows the sustainability criteria present in the design of the new neighborhood – known as Eco-City Valdespartera. Hence, the orientation of the teaching spaces guarantees sunlight and also privacy; the system of vertical and operable slats in front of the classrooms offers sun protection and also total darkening; the large cantilevered eave onto the courtyard permits outdoor covered circulation and protects the classrooms from the sun in summer; and the finish of the roof minimizes its visual impact. The construction with metallic structures and dry joint systems reduces the execution time of the work and also waste production, while the radiant floor heating and the remaining systems address energy efficiency criteria.
Based on the Reggio Emilia Approach, the school is arranged around a central court: an open space delimited by an oval-shaped and concave perimeter, whose continuous and fluid trace offers children a friendly experience of architecture, in contrast with the Cartesian order of the blocks surrounding it. 
Cliente Client
Gobierno de Aragón, Consejería de Educación, Cultura y Deporte
Arquitectos Architects
Magén Arquitectos: Jaime Magén, Francisco Javier Magén; Astarté Núñez (obra, Gobierno de Aragón construction, Aragon Government)
Colaboradores Collaborators
María Tejel, Rebeca Tristán, Beatriz Olona (arquitectas architects); Gabriel Fraj (arquitecto técnico quantity surveyor)
Consultores Consultants
José Sainz, Daniel Abad, José Ángel Pérez (estructura structure); Rafael González (instalaciones mechanical engineering); Ensaya (geotecnia geotechnics); Envac (residuos waste management)
Contratista Contractor
UTE Elecnor-Ehisa Construcciones y Obras
Superficie construida Floor area
1.809 m² (6.205 m² total actuación total area)
Presupuesto Budget
1.779.489 euros
Fotos Photos
Pedro Pegenaute, eNVuelo