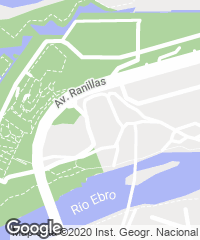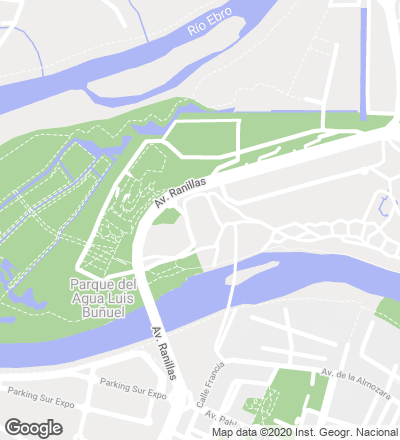 The profile of the new Congress Center, craggy and variable, ascending and descending, sets up a dialogue with the different spaces it contains. The colossal roof wraps the different volumes like a white and gleaming blanket, sheltering an extensive and free-flowing interior space. In this way, the three main volumes, housing the auditorium, a multipurpose pavilion and the modular halls, are connected to one another through a large main foyer that interrelates the different spaces.
The congress center goes up on the central platform of the Expo 2008 fair grounds, asserting its public and institutional character thanks to a unique spiky roof that wraps the different interior spaces. 
The congress hall is designed so as to ensure that the boxes and the mezzanine are independent, generating a 1,500-seater hall that can be made compatible with smaller gatherings. The exhibitions pavilion was used during the period while Expo?Zaragoza 2008 lasted as Tribuna del Agua (water platform), so its location, which can secure independent access, has permitted its use for exhibitions, seminars and other kinds of events. For their part, the modular halls defined an area that can be used as press center, offices or meeting rooms, whereas it also allowed a subdivision into areas of smaller or larger size, for posterior use. A large underground floor accommodates service areas, installations, dressing rooms, storage spaces and kitchens, which ensure the buildings's good performance without interfering with the activity that takes place in its public spaces.
The need to complete the project very quickly determined its architectural conception. The design starts from a strict geometrical modulation and the use of prefabricated building systems; the structural solution chosen is based on large-span metallic girders and a contained material repertoire. The interior spaces have a same gradation of textures and color, combining metallic and concrete claddings with continuous floor surfaces and glass partitions. In the exterior, large glazed surfaces alternate with metallic veils and latticeworks in the elevation onto the square, favoring the perception of the building as a public and open place.
The roof has been built with prefabricated panels of white concrete reinforced with fiberglass and triangular ceramic pieces with a lacquered and matte finish. The image of the building suggests a gradual transition between the different nuances of the materials used.?Finally, in the interior spaces the claddings are made of metal and concrete together with glass partitions that generate bright spaces.
Cliente Client
Gobierno de Ara
Arquitectos Architects
Fuensanta Nieto, Enrique Sobejano
Colaboradores Collaborators
Patricia Grande (directora de proyecto project manager); Carlos Ballesteros, Mauro Herrero, Sebastián Sasse, Alejandra Sobral, Lucía Gigante
Consultores Consultants
NB 35 (estructura structural engineer); R. Úrculo Ingenieros (instalaciones electrical and mechanical engineer); Higini Arau (acústica acoustic); 3i Ingeniería (protección contra incendios fire prevention system ); Ove Arup (fachada facade); Frapont (revestimiento interior interior panelling); Chemtrol (equipamiento escénico stage equipment); Luxmate (sistemas de control e iluminación control systems and lighting)
Fotos Photos
Fernando Alda, eNVuelo, Pedro Pegenaute, Roland Halbe