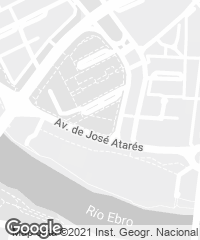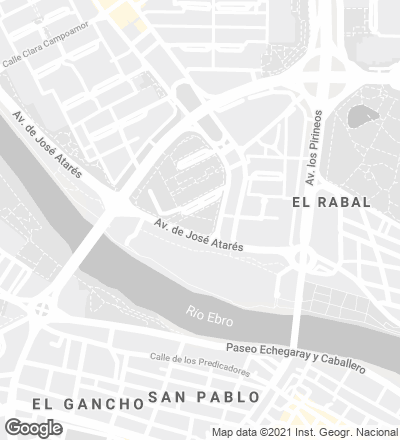 With a bold volumetry, the new building addresses three different aspects: firstly, its prominent position at the intersection of Gertrudis Gómez Avellaneda street with Ranillas avenue; secondly, its proximity with the Expo Zaragoza 2008 fair grounds; and thirdly, its use during the months the event lasted. Adapting to the conditions marked by the area's urban regulations, the apartments are distributed in two prismatic volumes that adjust to the unique geometry of the plot, with an arrangement that helps to complete part of the urban fabric of the city. The volume's position on a site considered buildable within the Special?Plan has permitted the creation of a large gardened area that nuances the relationship of the building with the adjacent streets.
Located close to the Expo Zaragoza 2008 fair grounds, the apartments are organized in two elongated volumes that adjust to the unique geometry of the plot, with privileged views of the historical city center.  
Oriented towards the south, the apartments overlook the river and enjoy the privileged views of the historic center of Zaragoza. With nine floors above street level, the volume has a marked horizontal character that is broken only along the eastern end and the articulation point of the two wings of the building, where the main access is located. Of the 112 housing units built, 68 are three-bedroom apartments that take up the first six floors almost entirely, whereas the remaining 44 units have two bedrooms placed between the ends of the four lower levels, the seventh floor and the eighth one; both slightly set back.
Of the 112 dwellings, 68 have three bedrooms and take up the first six floors almost entirely; the rest have two bedrooms and are distributed over the seventh and eighth floors and part of the four lower levels. 
In the three-bedroom apartments, both the kitchen and the main bedroom face north. The remaining spaces open up to the south and are equipped with a system of slats to ensure an optimum solar protection. The two-bedroom apartments are tucked into the corners, which permits increasing the area of the living room and the master bedroom and also enables opening up the bedrooms to the exterior views, which make their way in through large windows.
The enclosure is made up of large-format ceramic panels which take on a greater protagonism in the southwest and east facades, where the windows are covered with solar protection panels. The projecting terraces are finished with concrete slabs, and their edges are rounded off by an aluminum sheet surface and protected with handrails built with glass sheets fixed to steel mullions. At the same time, those facing north and south have rails that hold orientable slat panels that generate an interplay of light and shade, emphasizing the idea of lightness and dynamism in the whole complex.
Arquitecto Architect
Basilio Tobías Pintre
Colaboradores Collaborators
Javier Prieto, Isabel Gómez, Daniel Fuertes, Enrique Morales, Susan Valdivia.
Gabriel López Fernández (aparejador commissioner´s head of architecture)
Consultores Consultants
Boma (estructura structural engineer); Inco (instalaciones electrical and mechanical engineer)
Fotos Photos
Pedro Pegenaute