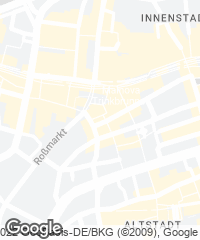 Downtown Frankfurt mixes medium-rise blocks – instrumental in forming clear-cut and dynamic public spaces – with high-rises, a combination that offers density and a skyline echoing the Taunus Mountains to the north. Omniturm joins this heterogeneous silhouette with a design that is both rational and sculptural.
The building contains offices, dwellings, communal zones, and a restaurant. It is a reinterpretation of the prism of stacked apartments that is the standard model of high-rise construction, deformed here to emphasize the tower's mixed functional configuration through two formal gestures that alter the overall profile right where the program changes. In this way, the lower slabs are pushed forward and backward to generate a composition of cantilevers that serve as terraces and canopies. In the same way, the eight residential floor plates – about halfway up the tower – slide out progressively in a shifting movement, creating a series of terraced and outdoor spaces offering inhabitants views over the city. Both alterations give a nuance to the building's urban dimension by introducing a human scale in a building expressing the unique and daring character of the German metropolis.
Cliente Client
Tishman Speyer
Arquitectos Architects
BIG-Bjarke Ingels Group.
Socios responsables Partners in charge
Bjarke Ingels, Andreas Klok Pedersen
Gerente de proyecto Project manager
Jõrn Hendrik Fischer
Arquitecto responsable Project architect
Dominic James Black
Jefe de diseño Design leader
Lorenzo Boddi
Equipo de proyecto Project team
Yannick Macken, Ian Omumbwa, Vinish Sethi, Finn Nørkjær, David Verbeek, Gunther Weber, Helen Chen, Joanna Gajda, Joseph James Haberl, Lukas Kerner, Maria Teresa Fernandez Rojo, Natalie Isabel Stachnik, Nicolas Millot, Sabine Kokina, Thomas Sebastian Krall, Viktoria Millentrup, Yan Ma, Raphael Cirani
Jefe de diseño (concepto) Design leader (concept)
Lorenzo Boddi
Equipo de proyecto (concepto) Project team (concept)
Maximiliano Rieutord, Emily King, Enea Michelesio, Gabriel? Ubarevi?i?t?, Giedrius Mamavicius, Jesper Boye Andersen, Jakob Lange, Joanna Jakubowska, Katarzyna Joanna Piekarczyk, Julieta Muzillo, Lorenzo Boddi, Lucas Carriere, Lucian Tofan, Max Aldunate Reitour, Sabine Kokina, Tore Banke
Colaboradores Collaborators
BIG IDEAS, BV Braun und Canton, Bollinger + Grohmann, TechDesign, K. Doerflinger, VRP Bauphysik, Jappsen Ing., Wessel, Prof. Eger, Licht Kunst Licht
Fotos Photos
Oleksandr Telesniuk