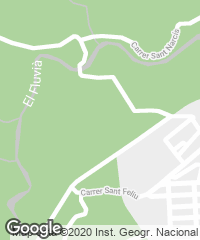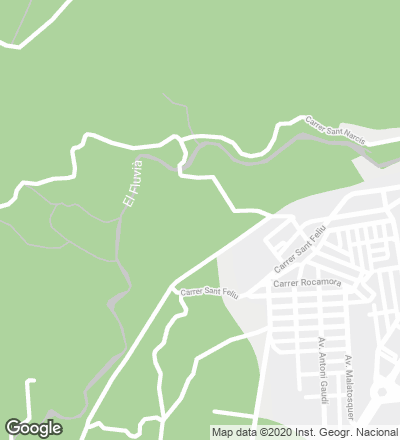 Immerse in one of the exceptional natural spots common to the province of Gerona, the town of Olot is particularly careful when it comes to its expansion on the surrounding areas in order to avoid destroying on its growth that which constitutes one of its most valuable goods, its natural landscapes. In the area knows as Tussols-Basil – situated between the city and the rural green park which runs along the river bed – a series of installations devoted to leisure and sports constitute the municipal project that tries to outline the encounter of the natural park and the urban fabric. To the partially completed path and the initially built swimming pavilion, an athletics track has been added and in a near future a football field will be built: two installations whose large extension set out from the very beginning a series of problems concerning their adequate location.
In two clearings of the woods of white oak, the athletics track and the soccer field align their axis in parallel sliding between one another to reduce their visual impact, separated by a tongue of land of volcanic origin. The recently concluded process of construction of the athletics track was accompanied by the controversy arisen among local ecologists – who wanted to preserve each and every one of the existing vegetal species – and the athletes who considered the trees a visual obstacle for the development of the sports events. The executed proposal pursues an intermediate solution between these positions, keeping the most valuable oak trees at the center of the track in such a way that the circuit advances amidst the light filtered through the branches, transforming the short and medium distance competitions in an experience of immersion into nature, something close to cross-country races.

Situated between a natural park and the urban center, the athletics track minimizes its presence sliding among the tree trunks; the banks carved on the hillside serve as occasional grandstand.
With the spectators situated right next to the track, the trees act as sifters that alter the perception of the track, with leaves whose density varies every season. Only the four masts that support the artificial illumination of the installations – formed by triangular metallic structures that tilt dynamically over the track –break in upon the green horizon of the park, raising as watchtowers that guard the dense foliage. The uneven flanks of the existing topography were carved following the shape of small benches of wavy contours that act as occasional grandstands on days when sports events are held or as resting spots along the park circuit during the remaining part of the season.
Cliente Client
Ayuntamiento de Olot. Consejo Catalán del Deporte. Generalitat de Catalunya
Arquitectos Architects
RCR: Rafael Aranda, Carme Pigem, Ramón Vilalta
Colaboradores Collaborators
Estadio Stadium: A. Sáez, M. Tàpies, M. Bordas (proyecto project); G. Rodríguez (maqueta model); P. Rifà (aparejador, dirección de obra quantity surveyor, construction site supervision) Pabellón Pavilion: M. Tàpies (proyecto, dirección de obra project, construction site supervision), A. Sáez (estructura structure), M. Sánchez (maqueta model)
Consultores Consultants
Estadio Stadium: Brufau, Obiol, Moya (estructuras structural engineering)
Contratista Contractor
Estadio Stadium: Coempco
Pabellón Pavilion: Construccions
Metàl·liques Olot
Fotos Photos
R. Prat, H. Suzuki