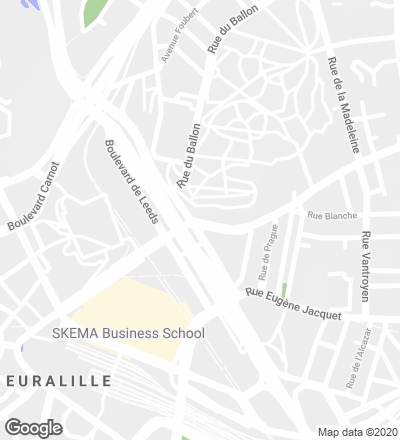 This building for office and retail spaces occupies the last free lot of phase one of the huge Eurolille project which Rem Koolhaas started working on way back in 1998. Taking advantage of the site's strategic position, right at the confluence of different visual and circulatory axes, the construction takes the shape of a small tower rising on a plinth, a tower whose plotting has the effect of creating a new civic space for the city, combining the public and the private, the vertical and the horizontal. Organized in three parts, the tower is formed by a play of continuous bands – which cover the edges of the floor slabs – and surfaces left open from floor to ceiling, where large window have been placed, offering panoramic views of the city of Lille. The glass panes are stratified and they incorporate a special treatment designed to protect the interior of the building against excesive s solar radiation while also reducing noise pollution.
What is most unique about this project in terms of construction is the ventilated solution of the envelope, which is executed with pre-oxidized copper panels installed at 1.35-meter intervals and held in place by means of mullions of the same material, 15 millimeters thick and fixed to the inner loadbearing layer by steel anchors. While the glazed parts of the facade are protected by a lattice of copper mullions, the opaque stretches are equipped with rockwool insulation 20 centimeters thick and nuanced, in accordance with the direction being faced, with panels perforated up to 40 %.
Obra Work
Edificio de oficinas y comercio Office and retail building in Lille (France).
Cliente Client
Groupe IRD.
Superficie construida Floor area
3.486 m².
Presupuesto Budget
5.900.000 euros.
Fecha Date
2010-2014.
Arquitecto Architect
LAN Architecture.
Supervisión de proyecto Project supervisor
Egis.
Consultor de sostenibilidad Environmental consultant
Act Environnement.
Consultor de ingeniería Engineering consultant
IOSIS.
Consultor de fachada Facade consultant
Elioth.
Consultor de acústica Acoustics consultant
Flandre Acoustique.
Contratista principal Main contractor
SPIE.
Cobre Copper supplier
Aurubis pre-patented Nordic Light Brown.
Muro cortina Curtain wall supplier
Wicona Mecano Serreur Filant.
Fotos Photos
Julien Lanoo