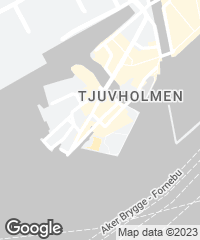 Tjuvholmen is a new cultural quarter located to the south-west of Oslo's city center. Integrating art and leisure, the complex combines the Astrup Fearnley Museum and an office building with a new public sculpture park, swimming beach and waterside promenade. As a continuation of the redevelopment of the Aker Brygge area, site of former shipyards, Tjuvholmen has a privileged location right on the water's edge, with views over the fjord and the city.
The program required a new home for the permanent collection of the Astrup Fearnley Museum, a separate space for its temporary exhibitions, and an office building with its own exhibition area for a private art collection. Three timber-clad buildings sheltered under a single swooping glass roof in a newly landscaped public sculpture garden.
A tour of the museum takes the visitor on a journey through ten rooms and all three buildings, starting with the permanent collection on the north side of the canal that cuts through the middle of the site, connecting at ground level underneath the main stair and piazza with the office building and its private art collection. To the south, over a footbridge across the canal, is the museum's space for temporary exhibitions. Gallery space is spread over two floors, giving the visitor a diverse range of spaces and volumes to experience, shaped by the curve of the sloping roof and lit via a spectacular skylight. An exterior roof terrace at second floor level provides a generous exhibition space for sculptures. The four-storey office building is arranged around a central, day-lit atrium. Conference rooms and terraces on the upper floors take advantage of the spectacular views.
The landscaping of the surroundings was an integral part of the project. A promenade along the waterfront links Tjuvholmen back to the city center. The cafe, a beach for swimming, and the sculpture park are all designed to attract a diverse range of visitors and create a truly public space.
One of the most prominent elements of this project is the huge glass roof that soars over the complex, linking the buildings together and giving the development a presence on the waterfront. Its curved shape, formed by laminated wood beams, crosses the canal between the buildings. The beams are supported by slender steel columns, reinforced with cable rigging, which refer to the maritime character of the site.
The building palette for the complex is simple: concrete, zinc, and wood to create an environment propitious to meditation. Nature and new vegetation also play a fundamental role in the project, highlighting the sacred and remote aspect of the site.
Obra Work
Museo Astrup Fearnley de Arte Moderno Astrup Fearnley Museum of Modern Art
Cliente Client
Selvaag Gruppen / Aspelin Ramm Gruppen
Arquitectos Architects
Renzo Piano Building Workshop en colaboración con in collaboration with Narud-Stokke-Wiig
Colaboradores Collaborators
E. Baglietto, O. De Nooyer (socios responsables partners in charge); C. Sovani with M Aloisini, E. Filippetti, T. Forre, D. Hart, N. Herland, A. Hoogeboom, S. Ishida (socio partner), A. K. Karlsen, A. McClure, E. Morre, M. Neri, M. Orlandi, A. Scarpa and A. González, M. Busk-Petersen, A. Leite Flores, E. Santiago, Y. Waterhouse; F. Cappellini, F. Terranova (maquetas models)
Consultores Consultants
AAS-Jacobsen, Seim & Hultgren (estructura structure); Norconsult (ingeniería mecánica y protección contra incendios mechanical engineering and fire prevention); PeR Rasmussen AS (electricidad electrical engineering); Gullik Gulliksen, Bjorbekk & Lindheim (paisajismo landscaping); Arup (iluminación e ingeniería de fachada lighting & facade engineering); Eliassen og Lambertz-Nilssen Arkitekter AS (consultora diseño consulting architects for schematic design); Skandinaviska Glassystem (cubierta roof system)
Fotos Photos
Nic Lehoux