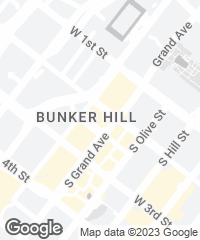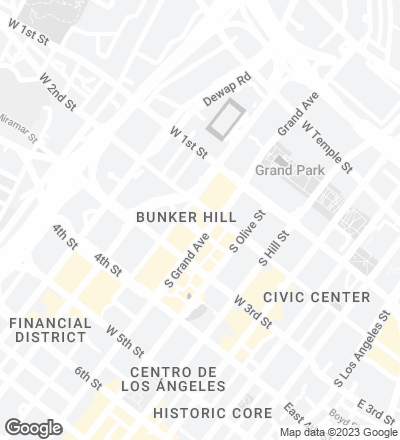 The scope of this project was to fuse the scattered buildings of Los Angeles County Museum of Art (LACMA) into a cohesive campus with new public spaces, new exhibition spaces and a strong visual identity for the museum. The first phase introduced the BP Grand Entrance, the Broad Contemporary Art Museum (BCAM), and pedestrian connections through the site. The second phase was the construction of the Resnick Pavilion for temporary art exhibitions.
At the heart of the project is the BP Grand Entrance, where the ticket office is located. Featuring a steel canopy, the open-air pavilion seems to float over a vast courtyard that opens northwards to Hancock Park and southwards to Wilshire Boulevard. This north-south pedestrian access across the site replaces Ogden Avenue, removing cars from the campus. Additional covered pedestrian walkways link through the site to tie together the disparate buildings.
West of the entrance pavilion, a red outdoor escalator takes visitors directly to the top-floor entrance of the three-storey Broad Contemporary Art Museum. With its saw-tooth roof and unadorned travertine facade it is somewhat reminiscent of a factory building. BCAM's collection is displayed in six generous galleries; large, 24 meter wide free-span spaces, with high ceilings and wooden floors. Flooded with natural light, the third-floor gallery has a glazed, louvered roof system. The middle level has no windows and is dedicated to special and temporary exhibitions. The ground level opens onto the park and the neighboring Resnick Pavilion.
With its additional 4,180 square meters of space dedicated to temporary art exhibitions, the Resnick Pavilion was built above the new underground car park. A single-story structure with a simple square plan, it shares the same architectural characteristics as BCAM – a glazed saw-tooth roof and travertine stone cladding. Glazed facades give views onto the park and towards BCAM.
A new project is currently in development for the area of the museum's campus known as LACMA West: the creation of the Academy Museum of Motion Picture Arts. This project will redevelop the existing 1938 May Company Department Store building. Additions to the north side of the building that date from 1946 will be removed and replaced with a 'bubble,' a 1,000-seat theater and a terrace with views towards Hollywood. A dialogue between the existing building ('gravitas') and the new extension ('levitas') will emerge.
Obra Work
Museo Broad de Arte Contemporáneo (primera fase de la ampliación del LACMA) Broad Contemporary Art Museum (LACMA expansion – Phase I)
Cliente Client
Los Angeles County Museum of Art (LACMA)
Arquitectos Architects
Renzo Piano Building Workshop en colaboración con in collaboration with Gensler Associates.
Colaboradores Collaborators
A. Chaaya (socio responsable partner in charge) with J. Boon, D. Graignic-Ramiro, A. Knapp, S. Joly, B. Malbaux, G. Perez, M. Pimmel, D. Prasilova, M. Reale and A. Jankovic, A. King, K. Ramirez, E. Vélez, M. Watabe; O. Aubert, C. Colson, Y. Kyrkos (maquetas models)
Consultores Consultants
Arup (estructura e instalaciones structure and services); Advanced Structures Incorporated (fachada facade); Davis Langdon (control de presupuesto cost consultant); KPFF (ingeniería civil civil engineering)