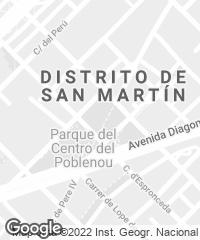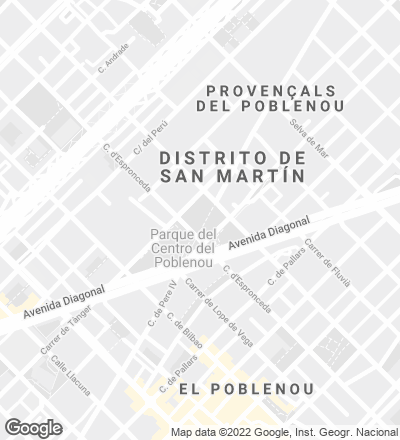 The project undertakes the recovery and conversion of an industrial building from 1920 into a museum, highlighting its special configuration in three sheds and its interior textures, and adding layers that adapt it to a new use. The warehouse was going to be demolished in 2008 because of the construction of Poblenou Parc Central, which foresaw cutting the connection with Pere IV street, to which the building is closely linked. A neighborhood association convinced the City Council of the need to preserve the building – in structural ruin –, a few days before the bulldozers arrived.
Selected in a competition held in 2009, the project proposes preserving the specific character of the building, and in particular its rich interiors, because the exterior had always been wrapped by adjoining buildings. The proposal is based on the addition of the minimum elements required for it to perform properly, built in one single golden material that adds a new layer to the complex. A new porch, measuring the full length of the main facade, extends the old building, with a strategy resembling one used in the past that consisted of attaching other pieces, and permits an open relationship of the museum with the park.
The context of austerity caused the fragmentation of the project in different phases. This forced to strip the proposal of anything not strictly necessary, giving the building a simplicity that highlights the existing architecture. The windows were covered with translucid panels, protecting the original timber frames until they could be restored. The hall was dimmed with simple raffia canopies, the roof was replaced and a concrete pavement was built. At that moment the facility opened to the public, without heating or cooling, for exhibitions and lectures. An elevator has been built recently, and a staircase to access the loft, as well as the porch and a bar.
All this builds a piece halfway between building and pavilion, still without air conditioning and in constant renewal, for all sorts of cultural activities, proving the value of architectural recycling. A part of the intervention blends with the original building; some handrails, one of the footbridges, the roof, the pavement, and the window protections. Others instead assert their presence in the unique gold-plated galvanized steel that builds the stairs, the second footbridge, the elevator, and the porch, with the objective of becoming the figure against that industrial backrop they however belong to.
The project is based on the addition of the minimum essential pieces needed, built in a single golden material that adds a new layer to the ensemble. A porch takes up the full length of the main facade.
In the interior of the warehouse, space is freed up to achieve greater flexibility and freedom for exhibitions, highlighting the brick textures and the rich spaces of the old factory, dating from the early 20th century.  

Cliente Client
MUHBA Museu d'Història de Barcelona - Ajuntament de Barcelona
Arquitectos Architects
BAAS arquitectura
Colaboradores Collaborators
Jordi Badia, Jero Gutiérrez (jefes de proyecto proyecto project architects); Carla Llaudó, Carles Figuerola, Antoni Garcés, Kino Coronas, Victoria Llinares, Xavier Garcia, Mercè Mundet, Mariona Guàrdia, Cristina Anglès (arquitectos architects)
Superficie construida Floor area
2.456m²
Presupuesto Budget
3.400.000€ (PEM)
Fotos Photos
Gregori Civera