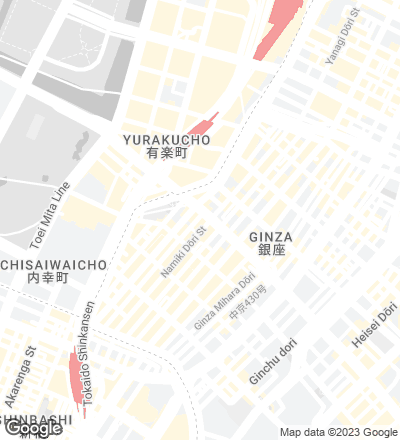 The French Group Hermès chose the dense district of Ginza, in the heart of Tokyo, for its main headquarters in Asia, a building of 6,000 square meters devoted to shopping space, workshops, offices, exhibition, and multimedia areas, and topping it all a French-style garden. This project was as much an aesthetic as a technical challenge. How to build a landmark piece, one that complies with all the earthquake safety measures, amidst the architectural diversity of Tokyo? The idea of a 'magic lantern' lighting up Ginza, as those that traditionally hung from the doors of Japanese houses, soon became the design's source of inspiration.
The 13 floors of the building (three of them underground) have a total length of 45 meters and a width of 11 meters. At the center of the building a small, open square leaves space for the main entry and gives access via an escalator integrated in the project to a subway station that is two levels underneath.
The facades are formed by bespoke glass blocks measuring 45 x 45 centimeters, which weave a 'glass veil' that forms a continuous and luminous screen between the serenity of the interior spaces and the busy city activity outside. These pieces were especially designed for this project, because it had to follow rigorous fire safety measures and guarantee its integrity in case of earthquake. The alternance between night and day, the change in light intensity and the transparency produce aesthetic effects that constantly alter their appearance, and produce a refined facade. The atmosphere created confers an at once traditional and technological character to the building.
The innovative anti-seismic system draws inspiration from the traditional Shintoist temples, organized around a large central mast from which the slabs are suspended, which makes these buildings resistant to the frequent earthquakes affecting the area. In this project, a narrow bay of stiff metal frames forms the fixed core, from which the cantilevering slabs hang. The central line of pillars is embedded in the foundation, whereas the innermost one rests on a viscoelastic material that absorbs the tremors. The whole building can move, in the case of an earthquake ocurring, according to predefined displacements that are uniformly distributed over all the structural elements of the building. In this way, not only the integrity of the structure is guaranteed, but also that of the different systems network.
Cliente Client
Hermès Japón
Arquitectos Architects
Renzo Piano Building Workshop; P. Vincent, (socio responsable senior partner in charge); Rena Dumas Architecture Intérieure (arquitectos asociados associated architects)
Colaboradores Collaborators
L. Couton (con with) G. Ducci, P. Hendier, S.Ishida (socio senior partner), F. La Rivière (y and) C. Kuntz; C. Colson, Y. Kyrkos (maquetas models); Takenaka Corporation Design Department (arquitectos consultores consulting executive architect) Consultores Consultants Ove Arup & Partners (estructura e instalaciones structure and services); Syllabus (control de costes cost control); Delphi (acústica acoustics); Ph. Almon (iluminación lighting); R. Labeyrie (audiovisuales audio/video equipment); K. Tanaka (paisajismo landscape); Atelier 10/N. Takata (normativa code research); ArchiNova Associates (dirección de obra site supervision); S. Shingu (escultura sculpture)
Fotos Photos
Michel Denancé