Peek & Cloppenburg Department Store, Cologne
Renzo Piano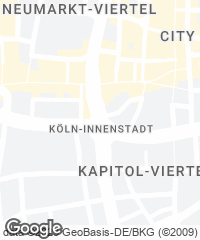 The department store chain Peek & Cloppenburg began its activity in 1901, writing a story of successes that has allowed it to overcome many obstacles, such as the huge impact caused by World War II both for the German economy and for the company itself. Currently it counts more than 65 stores in Germany, and its activity is quickly growing in countries such as Belgium, Holland, Poland or Russia. Conscious of how important a good external image is for business, a custom of the company (another instance of which is the work here included), is to commission the design and construction of its new buildings to prestige architects. In this way previous stores were designed by the likes of Richard Meier, Josef Paul Kleihues or Gottfried Böhm.
Located in a commercial area of the center of Cologne, called Schildergasse, and flanking a street that has very intense traffic, the new Peek & Cloppenburg department store is a composition of glass, steel and wood composition: classic materials that clad a modern building entirely devoted to fashion.
With a quite massive building, that is modelled following a curved shape, this building rises five floors and takes up an area measuring 23,000 square meters. Along its 130 meters of length it traces a free-flowing curve that seems to embrace a more conventional orthogonal building. Its roof descends progressively from both ends to reach its lower level at the center of the building, to avoid rivaling the nearby St Antoniter church.
The 66 arches consist of a combination of several pieces of larch wood from Siberia. Separated 2.5 meters from one another, these arches are joined by means of a steel substructure formed by profiles and stretchers and, being suspended from the main concrete structure, they never actually touch the ground. Their curves meet in the wavy upper beam at the top, configuring a transparent vault from which one can see the belltowers of the nearby cathedral of Cologne. Practically all the glass panels of the facade are different, a great but necessary complexity in order to adapt to the changing curvature of the volume, that, however, was finally solved thanks to mechanized glass-cutting processes. The spaces are filled with natural light, but with a main northwest orientation the heat gains can be absorbed, and furthermore an integral system of automatic blinds provides protection from the sun during the warmer days.
Cliente Client
Peek & Cloppenburg
Arquitecto Architect
Renzo Piano Building Workshop, B. Plattner, (socio responsable senior partner in charge)
Colaboradores Collaborators
E. Volz (asociado responsable associate in charge) (con with) L. Coreth, J. Knaak, J. Ruoff, A. Symietz (y and) R. Baumgarten, A. Belvedere, J. Carter, O. Hempel, J. Paik, M. Prini, J. Wagner; O. Aubert, C. Colson, P. Furnemont, Y. Kyrkos (maquetas models)
Consultores Consultants
Knippers & Helbig (estructura structure); Büro Mosbacher (fachada facade); A. Walz (estudios geométricos geometry studies)
Contratista Contractor
Hochtief
Fotos Photos
Michel Denancé, Paolo Rosselli