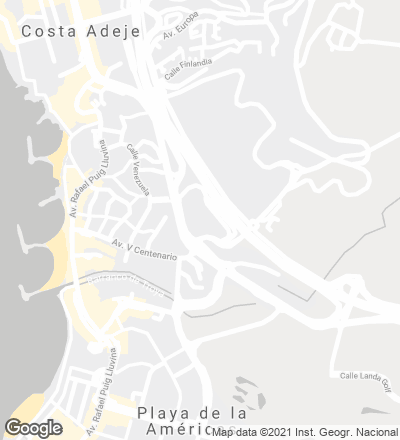 gh
On the coast of Adeje, south of Tenerife, in a touristic site currently under development and marked by the presence of the sea and the nearby mountains, stands the new Congress and Exhibition Center, baptized Magma
The project emerges from the synthesis between the two landscapes combining large bush-hammered concrete blocks, which evoke the petrified lava, with a fluid roof that rolls over the rock fragments, delimiting the space in all its directions. The liquid unfolds and multiplies leaving cracks of light and ventilation that intensify the sense of lightness of the sinuous surface. Inspired by the massive constructions of Le Corbusier, these twelve monolithic pieces– distributed forming a rough ring, as a sort of new Stonehenge – serve as structural elements and at the same time accommodate systems, restrooms and even offices.
To encourage the flexibility of uses, the building has three accesses. The main entry, located on the southern facade, leads to a wide, deep and dark hall with a concrete ceiling, not very high, pierced by deep cracks dramatically illuminated by Carlos Belda, the director of the School of Performing Arts. These cracks of light lead to the large hall, in which the space decompresses. An area of 2,700 square meters that can adapt its size to accommodate concerts of the symphony orchestra, theater plays or divide itself into up to nine assembly rooms with a mobile and adjustable equipment consisting of walls, stands, platforms and seats.
The choice of materials is determined by the search for a maximum integration of the building into its surroundings; to achieve this, all the volumes are made of concrete with aggregate of local 'chasnera' stone, be it with the finish obtained from wood formwork or with a rougher one, thanks to the use of a bush hammer. The roof, made of panels of vegetal fiber and treated cement to achieve a color similar to that of the local stone, has a geometry that, developed with the acoustic needs in mind, evokes the sea and the movement of the waves
In spite of its formal complexity, the building method used is very simple. It consists of a uniform metal structure of flat beams, ninety percent of which are the same, and a telescopic substructure whose average height is 45 centimeters. The entry of light ccurs through a series of skylights that tend to disappear concealed in the cracks created at the intersection of the different elements.
Obra Work
Magma Arte & Congresos Magma Art & Congress
Cliente Client
Canarias Congress Bureau Tenerife Sur S.A.
Arquitectos Architects
Fernando Menis, Felipe Artengo, José María Rodríguez-Pastrana
Colaboradores Collaborators
Esther Ceballos, Andreas Weihnacht (proyecto project); Ana Salinas (urbanización urbanization); Andrés Pedreño, Rafael Hernández (aparejadores quantity survey); José Antonio Franco —Martínez Segovia y asociados—, Juan J. Gallardo (estructura structure); Milian Associats (instalaciones services); Pedro Cerdá, Antonio Carrion (acústica acoustics); Gonzalo Orna (audiovisual audiovisual); Carlos Belda (iluminación lighting); Juan Gopar (escultura de luz light sculpture); Miriam Durango (señaletica signage)
Contratista Contractor
UTE Congress (Acciona + PPL)
Presupuesto Budget
28.962.181 euros; 1.417,32 euros/m2
Fotos Photos
Ronald Halbe; Hizao Suzuki; Fernando Menis; Fernando Alda