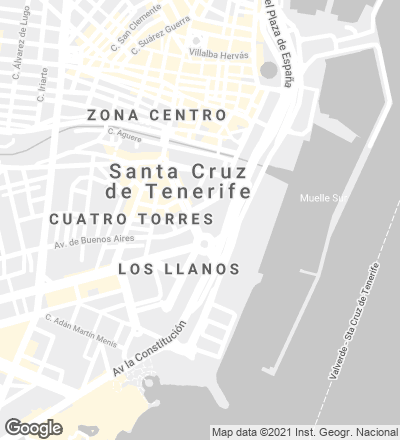 Physically bound to the city's foundational moments, the presidential seat of the regional government constitutes a starting point for the the Canarian capital's historic center renewal. Conceived as an emphatic interlocking of fractured basalt and concrete volumes, from its station on the coast it establishes a dialogue of echoes with the abrupt profile of the Anaga mountain range, seated on a carpet of basalt paving that unifies the square where the presidential palace shares the stage with a hermitage, a barracks and a grove of laurels.
Rebuilt inside as an icon of collective memory, the fragility of the Hamilton House's teakwood patio can not be discerned from outside the massive, cyclopean Government Headquarters of the Canary Islands.
With its Cyclopean masses of volcanic evocations, the building guards within it the reconstructed courtyard of the Hamilton House, a relic in teakwood that wants to live on as an icon of collective memory while serving as a seed for new things. The junction of this central crater with the passage that crosses the entire breadth of the palace forms a singular space characterized by the transit of visitors, by a transparency producing unhindered views, and by an inflow of light and breeze. The inevitable stratification of institutional functions is expressed in the differentiated treatment that each floor receives. Hence, the public nature of the ground level comes forth through a space with large openings and free of supports that accommodates the library and the auditorium. Its role as a place of protocol is patent in the carriage driveway that allows official guests to accede by car up to the very foot of the stairs. A more restricted zone, the upper floor contains the administrative offices beside a reception hall that looks on to the garden of the auditorium roof. The presidential apartment – a duplex open toward the sky –crowns this base in the way of a sculpture, isolated from the action by lush foliage.
The walls of the top floor act as beams, leaving the lower level free of piers and searching for continuity between space and structure.
Seeking continuity between matter and form, the space and the volume are defined by the load-bearing structure. Hence the honey-combed walls that subdivide the administrative zone of the first story act as large section beams, simultaneously sustaining the floor and roof slabs. Inside, the islands that compose the autonomous region are represented by the mineral claddings of the grand halls, such as red stone from the island of Gomera in the reception room and from Tindaya on the island of Fuerteventura in the auditorium. Concrete and wood complement a series of rough-textured finishes bespeaking the volcanic eruptions that long ago made the Canarian archipelago rise from the bottom of the sea.
Cliente Client
Dirección de Patrimonio, Consejería de Economía y Hacienda, Gobierno de Canarias
Arquitectos Architects
Felipe Artengo, Fernando Martín Menis, José María Rodríguez Pastrana
Colaboradores Collaborators
A. López, F. Morales (arquitectos architects); P. Artengo, J. Elejabeitia, I. Nichaldas,N. Méndez (aparejadores quantity surveyors)
Consultores Consultants
Arcal (estructura structure); IHD (instalaciones mechanical engineering)
Contratista Contractor
ACS
Fotos Photos
Jordi Bernadó, Hisao Suzuki