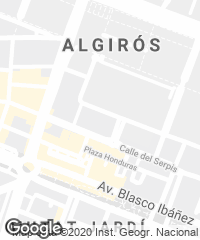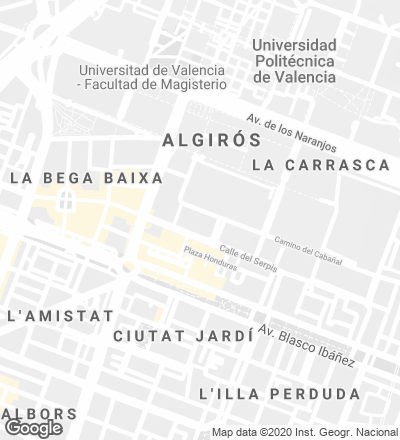 On the boundary between the Tagongers Campus and the urban center of Valencia, the Centre d'Idiomes is a hinge between these two fabrics reserving a large space in the west area of the plot, which functions as an outdoor lobby for the university complex. The buildings consists of two rectangular pieces placed parallel to one another and linked by a longitudinal distribution band. The unequal character of each one of them is reflected in the materials of the facades, built respectively with wood slats and steel sheet.
The west facade is closed with a modular system that alternates stretches with orientable vertical louvers and others with fixed horizontal slats, generating a varied rhythm that reflects the activity inside the center.
The east block is devised as a hermetic volume that houses the service spaces and the vertical communications. The windows are freely distributed, with the optimum size for each space, behind a veil of microperforated galvanized steel sheet. Like a piece of fabric that sways with the wind, the metallic membrane moves rhythmically, generating a geometry that, when traversed by light, generates a broad spectrum of reflections and textures with nuances that change throughout the day. Furthermore, the western block houses the main teaching spaces and their facade echoes their distribution. A framework of Western Red Cedar modulates the light in the different rooms, alternating operable slats in the classrooms and horizontal latticeworks in the communal spaces.
The program is not limited to the basic learning of a language, and the school is devised as a place for the exchange of experiences. For this reason, the building is fluffed out reserving spaces between the classrooms with a small garden that controls temperature and filters light, creating an atmosphere that favors informal conversations. Furthermore, because it is a modular system, these intermediate spaces can be transformed into classrooms that are totally conditioned with a minimum intervention that replaces the facade panels. In the basement there are three important pieces in the program, the assembly room and two multipurpose halls, chained by a hall that is illuminated with an English courtyard.
From the environmental point of view, the building has an innovative climate control systems integrated in the beams, which channels hot or cold water depending on the outdoor temperature. This system, along with the high-performance lights, the production of energy through cogeneration, light control through waves, and the double skin of the facade, give the whole complex an A energy efficiency rating.
Clinte Client
Centre d'Idiomes de la Universitat de València S.L.U.
Arquitectos Architects
Carlos Sánchez Hernández, Salvador Lara Ortega (ARKÍTERA SLP)
Colaboradores Collaborators
Néstor Marco Montañana, Mireia Perepérez Espí (arquitectos architects); Enrique Marín González (arquitecto técnico quantity surveyor)
Consultores Consultants
Consulting de Ingeniería ICA (instalaciones mechanical engineering);
DYP Ingeniería (estructura structure)
Contratista Contractor
ARCIÓN S.A. Construcciones / Centre d'Idiomes de la UV, S.L.U.
Superficie construida Floor area
3.885 m²
Presupuesto Budget
4.022.017 euros (PEM)
Fotos Photos
Mariela Apollonio