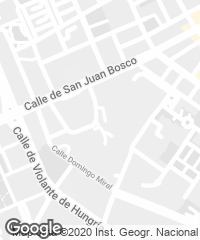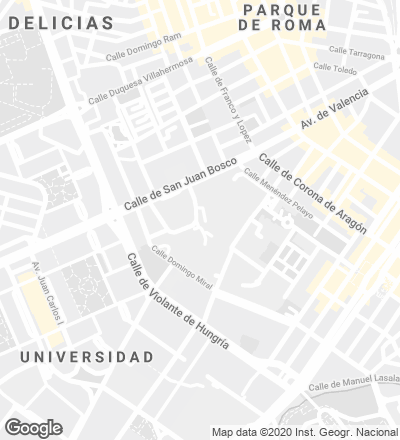 On the San Francisco campus of the University of Zaragoza, the Center for Biomedical Research takes up a narrow plot between the Hospital Clínico and the sports complex. Because of its location, this space had a residual character, without a defined access and with a steep drop towards the east-west. The main challenge was to fit the project into the assigned space, spanning the differences in height and addressing the pedestrian circulations. Furthermore, this strategic position between a large building and a big void called for a project that would give the center greater visibility and connect it both to the hospital complex and the Faculty of Medicine.
The different floors, which adapt to the elongated geometry of the plot, are superposed establishing a volumetric dialogue with the surrounding buildings. A skin of metallic louvers wraps each level without gaps, giving the complex a unitary image. This smooth image is underscored with rounded corners, avoiding the fragmentation of the flat volumes. The system of motorized louvers also lets users control sunlight entry depending on the specific needs, opening up the louvers in winter to collect energy and closing them in summer to protect the interior space from heat. Between this first permeable skin and the interior limit, a thermal cushion buffers the changes in temperature, thus favoring air circulation up and down the facade. The louvers, built with extruded aluminum, have a smooth side and a striated one, made out of casts with an irregular profile.
Located on a narrow  plot between two platforms at different heights, the building organizes the pedestrian circulation with a staircase and a ramp  that give access to the second floor of the center. 
A ramp and stairs give access to the highest level of the plot, where the main entrance is located and which coincides with the building's second floor. Here the facade is set back to delimit a space protected from the rain and to guide users towards the door.
The complexity of the specific needs of the program are translated into an efficient scheme both in plan and in section. The vertical communications are located at the center and two ends of the long tray, dividing the space into three main sectors. The underground levels accommodate the restricted access areas like the operating rooms or the animal facilities. On top of them emerge two partially buried floors that house laboratories and workspaces. Lastly, in a smaller and freestanding volume are the management areas and the machine room.
Consisting of extruded and swivelling aluminum louvers, the skin that wraps the building permits controlling the intensity of light and views depending on the specific needs in each area of the program. 
Cliente Client
I+CS, Instituto Aragonés de Ciencias de la Salud
Arquitectos Architects
MTM arquitectos: Javier Fresneda, Javier Sanjuán
Colaboradores Collaborators
Laura Casas Martín (coordinadora del proyecto project coordination); Carmen Antón, Miguel García-Redondo, Ana Arriero, Jesús Barranco, Álvaro Maestro (MTM arquitectos)
Consultores Consultants
IDEEE SL, Jorge Conde (estructura structure); Grupo JG. Juan Antonio Posadas (instalaciones mechanical engineering); Laura Casas Martín (coordinación de dirección management coordination); Alberto Palencia, José Antonio Alonso (arquitectos técnicos quantity surveyors); Norvental (ingenieria fachadas facade engineering); Bureau Veritas (control de calidad quality control); Inco JG, Luis Molina (control de calidad instalaciones MEP quality control)
Contratista Contractor
MLN Mariano López Navarro
Superficie construida Floor area
7.094 m²
Presupuesto Budget
15.680.200 € / 2.210 €/m²
Fotos Photos
Luis Asín, Roland Halbe