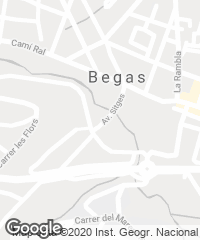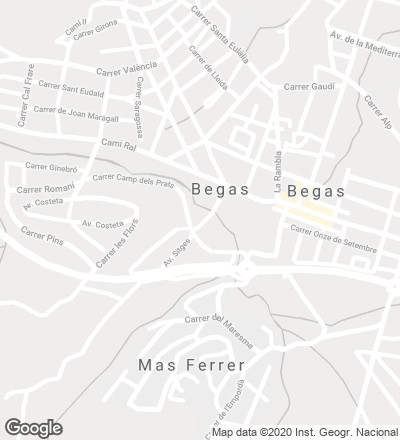 The municipality of Begues, in the Garraf Natural Park, is the location for the new mixed-use cultural building that houses El Roure Civic Center and La Ginesta Library, aside from a multipurpose theater for 336 people. The project is the result of the joint work and efforts of technicians, citizens, and the public administrations. This facility is organized around two main objectives: generating an 'interior plaza' where neighbors can meet, and favoring an interaction with the environment, recovering in this way the Riera Fonda de Begues.
The ensemble, located on a triangular plot surrounding the Riera, takes the boundaries of the plot as reference and makes them its own by occupying it entirely, generating a horizontal construction that blends with the landscape. The building, which concentrates the three elements of the program, is developed from an 'agora' that articulates different functional spaces around it.
The interior is organized in elongated strata that follow the course of the Riera and create different types of spaces: the most open-plan ones, like the library, the bar, and the youth area, are located close to the facade of the Riera, while the more opaque and private ones, like the theater or the rehearsal rooms, are located towards the facade that looks out towards the mountain. Outside, the work fosters the natural revitalization of the Riera generating a promenade of access to the facilities and a path that connects with the other bank. The promenade becomes wider as it passes by an oak tree that is almost totemic in character and lends its name to the center, creating a sort of terrace-lookout. For its part, the new path joins the cultural center with the old abattoir.
Fully blended with  its environment, the  center functions as a social and cultural catalyzer, and enhances the natural surroundings through the recovery of the Riera Fonda de Begues and of an old  oak tree that lends its name to the building.
Designed in accordance with sustainability criteria, the building has a biomass power plant and a self-sufficient system for rainwater collection on the roof, which is connected to a tank located below ground and which services the restrooms. On the other hand, and also addressing the high interest in energy efficiency, the two main facades are configured in different ways depending on their orientation and function. The main facade has a double skin, with a first layer of pine wood and a second of glass, whose high thermal performance makes it possible to enjoy northern light in the library space. Moreover, the facade covering the theater and civic center features a ventilated system with cork insulation and heat-treated pine wood.
The building melds with its surroundings with a pine wood surface along the front facing the mountain and reflects the landscape through a second glass skin on the north facade that zigzags alongside the stream. 
Cliente Client
Ayuntamiento de Begues, Generalitat de Cataluña, Diputación de Barcelona
Arquitectos Architects
Calderon-Folch-Sarsanedas Arquitectes
Colaboradores Collaborators
Ignasi Arbeloa (arquitecto architect), Joan Vilanova (dirección de ejecución construction manager), Marc Sanabra (cálculo de estructuras structure calculation), Anoche Iluminación Arquitectónica (iluminación lighting), Eliseu Guillamon (paisajismo landscape), Zoe Sarsanedas y María Retamero (diseño gráfico graphic design)
Superficie construida Floor area
3.893 m²
Presupuesto Budget
5.450.980 euros + IVA
Fotos Photos
Pol Viladoms