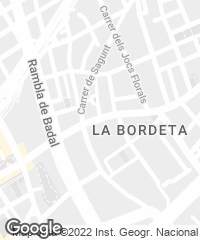 The la Borda process was launched in 2012, within the context of a program to recover Can Batlló, where a group of neighbors set up a group to collectively address the issue of access to housing through a cooperative system.
The architects' cooperative got involved from the beginning, with the idea of providing an alternative to the severe housing crisis in Barcelona. This involvement brought along the opportunity to rethink the production of affordable housing from the bottom up and with future users as active participants in the process.
Deciding on a community model instead of state or private developments makes it possible to overcome some of the limitations common to these. In the case of state promotions, not knowing who the future user will be makes it impossible to implement variations on standard lifestyles; and the market logic rules in the case of private housing, designed to become a commodity. The innovation in the promotion process has been essential to develop the architecture beyond its form. Five features of the model have a direct effect on the project.
The first is self-promotion. The members of the association direct, control, and develop the whole process by means of an internal structure that favors direct participation. The involvement of users is one of the main strengths of the project and its starting point.
The second is the assignment for the use of the property. The building belongs to the cooperative, and the plot is publicly owned, so only the actual use of the dwelling has a value and speculative interests are kept at bay.
The third is living in community. The project fosters interaction among residents through communal spaces, promoting cooperation and seeing the building as a shared house where
the boundary between private and collective space is blurred.
The fourth is sustainability. Reducing the building's environmental impact – in terms of construction and lifespan – is a priority. To optimize energy use the program eliminates underground parking, services are collective, and the surface area of the dwellings is reduced.
The fifth is affordability. The cooperative must be accessible to lower income families. The construction process is organized in two stages to minimize the initial investment; a first to secure the minimum living conditions so that users can move in, and a second phase during which the community can gradually complete the facilities.
Cliente Client
La Borda, cooperativa d'habitatges en cessió d'ús
Arquitectos Architects
Lacol Arquitectura Cooperativa
Colaboradores Collaborators
Arkenova (ingeniería engineering); Miguel Nevado (estructura structure); AumedesDAP (control de costes y DEO budget control); Societat Orgànica (consultoría ambiental sustainability); PAuS - Coque Claret y Dani Calatayud (consultores proyecto consultants); Grisel·la Iglesias - Àurea acústica (acústica acoustics), José Juan Martínez Larriba (director de proyecto project manager), La Ciutat Invisible (coordinación de la promoción coordination); Holon (diseño de servicios services design)
Superficie construida Floor area
3.000m²
Fotos Photos
Lluc Miralles