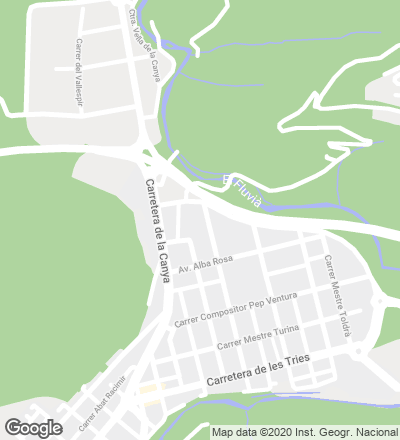 If the restaurant Les Cols already served as an example of how glass and steel can transform the interior of an old farmhouse into a chimeric space, somewhere between the rural world and cosmopolitan sophistication, the project for the construction on the same plot of five hotel-pavilions takes a similar conceptual line as starting point.
In this case it is the pure forms, the superimposed textures and the markedly abstract spaces that set up a serene dialogue with nature, managing to offer an avant-garde shelter in which to relax and rest, not necessarily from an intense travel schedule, but from a lifestyle..
Located next to one of the stone walls that trace the perimeter of the site, the organization of the new building draws inspiration from the structure of vegetable gardens. The complex is surrounded by green steel canes that perform as a sort of fence or hedge. Glass surfaces of emerald green measuring 30 centimeters thick and three meters high are aligned rotating one with respect to the other, forming a zigzagging 'vegetal wall' flanked on either side by land strips of different width. The boxes of rooms are tucked into the wider strips and the corridors into the narrower ones. The circulation through these narrow paths tightly contained within tall glass walls invites to gaze into the sky, which becomes one of the main parts of the project.
Everything in the rooms – floor, walls and ceiling – is transparent, once again turning the sky into the prominent element of the project. There are no furniture pieces, only a green mat of strips through which light comes in and that can be used as a sofa or table, or as a bed even.
In the bedrooms there is only a green mat of strips that serves both as sofa and as table, and that becomes a bed. The bathroom has a washbowl through which water flows and a deep bathtub filled with river stones.
The pavements of metal grille in the corridors and of glass in the rooms hover over a bulky black floor that imitates the forms of volcanic lava in movement, a reference to the unique landscape of the neighboring region of La Garrotxa, full of extinct volcanoes. Here the true luxury is nature, its calm and in-depth appreciation.
The only visible sophisticated element is a control panel for lighting, air cooling and heating and shutters that darken these crystalline cubes at nighttime. In the bathrooms there are no sinks but washbowls in which the flow of water is controlled by sensors, while the bathtubs filled with river stones evoke the freshness of streams. The objective is to create dematerialized spaces built only with light, color, transparencies and reflections; spaces in which nature, abstract or real, is the principal element.

Cliente Client
Joaquim Puigdevall y Judit Planella
Arquitectos Architects
Rafael Aranda, Carme Pigem, Ramón Vilalta
Colaboradores Collaborators
M. Subiràs (proyecto project); A.Sáez(estructura structure); I. de Vasconcelos(maqueta model), H.Vincent, F. Spratley (visualización visualization)
Consultores Consultants
Grau-Del Pozo (instalaciones mechanical engineering)
Contratista Contractor
Joaquim Puigdevall
Fotos Photos
Eugeni Pons