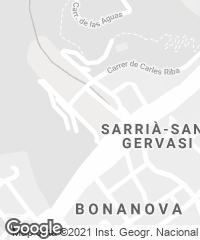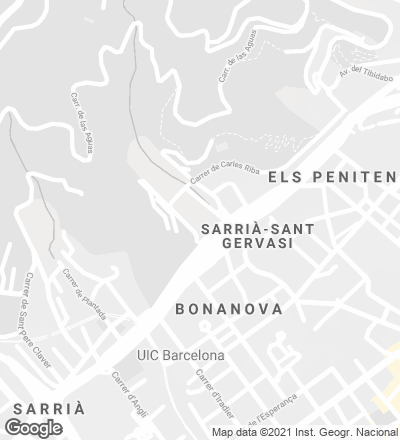 The project is the result of a long process that began in 2002, the year in which the call for ideas was held. The winning proposal was that of Josep Llinás, but since then its completion has been delayed several times due to changes in urban plans – which have affected the plot's outline –, and also due to the complexity of the site. However, from the very beginning the project has remained faithful to two essential ideas: one has to do with the site and the other with the program.
As far as the site is concerned, the center takes up a sloping plot located in Barcelona's Ronda de Dalt, right along the frontier between the Collserola mountain range and the urban fabric of Barcelona, which is the boundary between the built city and the natural environment. The center is located on the side where the mountains rise, and should hence address conditions very different to those of the city. While the first alternatives considered the possibility of hiding or of slightly concealing the volume of the building behind a small forest, in the following ones, because it was necessary to push the building significantly forward with regards to the Ronda de Dalt, the options were all centered on using the topography or the slopes of the site as a tool to define the morphology of the building.
As for the Institute's program, it is the specific one of an eye clinic, organized in floors of surgery rooms, offices, administration or study areas and parking. One of its special features is that most of its activity is carried out without natural light (offices, surgery rooms). On the contrary, light is essential in the waiting rooms and areas for rest or in the private workspaces. The building's use defines an itinerary with different roofs and sun protection elements, arranging the parts of the program in accordance with the different needs of natural light: from the exterior spaces into the waiting rooms, so that natural light, intense and excessive on the outside, is subdued and comfortable when reaching the interior. 
It also has an assembly hall for 350 people, and other smaller halls, one for 50 people and two more for 20 people each. The center is accessed through an exterior ramp located on the main facade, protected from harsh sunlight by a series of roofs that filter the entry of light. The roofs assert their unitary presence with different folds and projections that perform as canopies over the facade, generating a sheltered area upon which a gardened space extends.

Cliente Client
IMO Instituto de Microcirugía Ocular
Arquitecto Architect
Josep Llinàs
Colaboradores Collaborators
Roger Subirà
Consultores Consultants
Grupo JG Ingenieros, Jordi Bernuz (estructura structural engineering); Salvador Rigol, Jaume Francitorra, Albert Pascual (dirección de obra construction management)
Fotos Photos
Duccio Malagamba