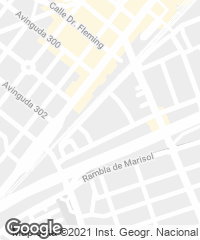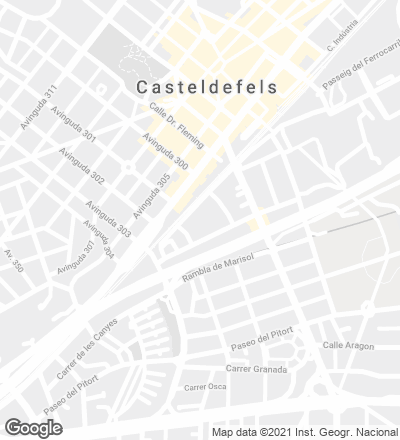 The plot is located inside a trapezoidal urban block within the residential fabricof Castelldefels, a town of Barcelona's Bajo Llobregat region. One of the sides of the plot is bound by railway tracks. This physical and sound barrier, along with the impact of the lines of sight projected from the adjacent dwellings, is the determining factor of the project. The building keeps these features in mind and introvertedly wraps up the block, opening up to an interior courtyard that protects the children's playground from the noise of trains.
The building is topped with a sloping roof consisting of folding pieces of metal sheet. As it can be seen in its entirety from the surrounding housing blocks, it is thought of as a fifth facade of the building.
A green strip on the north facade also serves as an acoustic barrier and frames the few windows of a compact facade that wishes to assert the building's presence as a shelter in an inhospitable environment. The perforations are organized in zigzag, permitting a lively play that respects an orderly modular structure, endowing the complex with coherence and uniformity.
In contrast, the elevations that surround the court open up with large glass surfaces, favoring the visual connection with the exterior from the classrooms. The position of the structure on the plot allows opening up an ample courtyard that offers an overall view of the complex and thereby facilitates the orientation of users. The horizontal configuration is underscored by the cantilever that extends the roofs and by the contrast between the white concrete on ground floor and the dark sheet that wraps the upper floors.
One of the corners contains the main access, passing through a large glazed space that leads to the ground floor, where the service areas are located, organized with greater freedom to favor transparency. The collective areas, like the multipurpose hall and the dining room, are placed apparently independent from the structure, leaving the columns at sight
The marked contrast between the materials of the facades is stressed with a terraced organization of the classrooms, protected by the eaves of the roofs, which underscore their horizontal character.
In this way, the different interior spaces appear to be in the garden, letting the children touch the ground, as occurred in the projects of the fifties by Jacobsen and Neutra. .
The upper floors accommodate the classrooms that face the interior of the plot, instead of the railway tracks, and the circulation paths are located in the areas located to the north, acting as buffer zones from the din of the train. The interiors of the building are designed following a domestic scale and keeping the age of its users in mind: the ceiling height is lower and the partition walls shorter. This layout avoids the presence of columns and so generates a continuous space.
Cliente Client
Generalitat de Catalunya
Gestió d'Infrastructures
Arquitecto Architect
Carme Pinós Desplant
Colaboradores Collaborators
Juan Antonio Andreu, Samuel Arriola, Matteo Caravatti, David Sebastián, Agustín Pérez Torres
Consultores Consultants
Brufau (estructura structure); RC Enginyers (instalaciones mechanical engineering); CBA, Josep Camps (mediciones y presupuestos measurements and budget)
Contratista Contractor
COPCISA
Fotos Photos
Duccio Malagamba