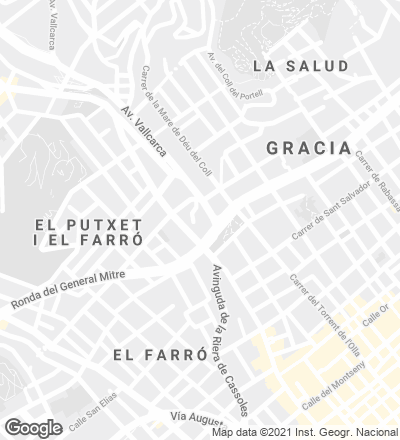 The plaza of lesseps is a wide open surface in the Gracia neighborhood, with a dense and established urban fabric. Surrounded by tall residential buildings, this space will be the point of departure – or of arrival – of the future green corridor stretching between Hospital Militar avenue and Bolívar street, directly connecting the district with the mountains of Collserola. The municipal library Jaume Fuster, which will be the largest one until the provincial library is completed in around three years, takes up one of the edges of the square.
The library takes up one end of a green corridor that will connect the city with the Collserola mountains, which inspired the design of the roof built with sloping surfaces that cover the spaces at different levels.
Taking heed of the characteristics of the site, the aim of the proposal is to merge the new volume with the buildings at the rear. In order to achieve this the floor plan takes on a lozenge shape that seems to round off the irregular boundary that these blocks trace over the public square. Thus, the library gradually moves up against the built edge and in this manner manages to maintain most of the open space.
On the other hand, the close presence of the mountains finds its echo in the shape of the roof, a set of sloping surfaces that cover spaces of one or two heights and that can be appreciated from the ground level and first floors. The green mountainsides are transformed here into metal slopes whose geometry resembles that of the streets. A canopy traces the frontier between the building and the square, turning the latter into a gathering space.
The purpose is to blend the volume of the library with the buildings that form the square. In order to achieve this the irregular line traced by the existing built mass is filled up with a lozenge-shape floor plan.
The library is organized in three floors above street level and a basement, equipped with 298 reading seats, circulation desk, Internet access and a cafeteria. An auditorium with capacity for two-hundred spectators, the local archive and exhibition spaces also find their place in open-plan floors where the boundaries are established by references such as the roof ridges or the virtual lines of the columns.. 
Wood covers the interior surfaces up to an intermediate height both in the walls and in the vertical supports, the rest of the space remaining white. The facade combines boards of high-density wood in an orange hue with stucco, and between them appear the cracked contours of the large windows fragmented by vertical aluminum frames.
The zinc roofs gradually adjust to the walls, appearing cut out between the glazed skylights – transparent between the canopy and the facades, and translucent on the last floor – that draw in a white and filtered light into the attic, a breakout space for more informal uses.
Cliente Client
Ayuntamiento de Barcelona
Arquitectos Architects
Josep Llinás
Colaboradores Collaborators
Joan Vera, Roger Subirà i Ezquerra,
Carlos Calchón, Andrea Tissino
Consultores Consultants
Jaume Martí (aparejador quantity surveyor); Jordi Bernuz (estructura structure); Joan Gallostra/Grupo JG (instalaciones mechanical engineering); Frapont(carpintería de madera woodwork)
Contratista Contractor
ACS, Dragados
Fotos Photos
José Hevia; Duccio Malagamba