Massana School of Art and Design, Barcelona
Carme Pinós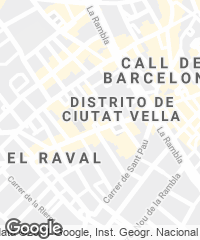 The new Massana School is part of a long process of urban transformation around Plaça de la Gardunya, in the Raval neighborhood, in the historic center of Barcelona.
The project analyzes the place in detail. Unlike the residential block on the same square – and designed by the same studio –, which aims to dissolve into its context, the school wants to stand out. If a domestic scale was chosen for the dwellings, in this case the school is larger and more abstract. With the aim of keeping the building from occupying the whole square, the main entrace is located in front of the future connection with the courtyard of the Biblioteca de Catalunya, creating a new public space between this square and that of Canonge Colom. The result is a dynamic building, the facade of which avoids frontality with regards to the Plaça de la Gardunya.
The interior space of the school is open and unitary. A terrace at the end of each circulation space opens the building to the square, responding in this way to what the teachers had demanded, which was having open spaces that favor the relationship among students.

Though each facade of the school is explained in relation to its context – always diverse –, and in spite of the fragmented geometry of the terrain, the building has a strong unitary presence. The school, which represents an institution of future craftspeople and designers, is covered with ceramic material, of large dimensions, manufactured by hand and designed specifically for the project, giving the building a unique and emblematic character.
The main access is on Calle Florista de la Rambla, trying to establish a link with the future passage and the Jardins Rubió i Lluch. Aside from this main access, the building has another two secondary ones, located in accordance with the school's program needs: one of them is on Plaça de la Gardunya, connected to the exhibitions, and the other by La Boquería market, connected to the assembly hall. The latter can also function independently, so cultural activities can take place outside school hours. 
The program of the building is on ground floor and on the five upper floors, plus a basement level. The spaces are organized according to the different uses, be they workshops or classrooms. The classrooms, facing south, and the workshops, facing north, are separated by a large central atrium that functions as a potential urban passage.
Cliente Client
Consorci d'Educació de Barcelona
Promotor Developer
Ajuntament de Barcelona, BIM/SA
Arquitecto Architect
Carme Pinós Desplat (autor de proyecto y director de las obras project designer and construction manager)
Colaboradores Collaborators
Samuel Arriola (director de proyecto project manager); Elsa Martí, Roberto Carlos García, Holger Hennefarth, Blanca Perote, Ana Isabel Rodríguez, Inés Senghour, Francisco Olivas (arquitectos colaboradores collaborating architects)
Consultores Consultants
Boma - Masala consultors (estructuras structures); Indus Ingeniería y Arquitectura (instalaciones mechanical engineering); Entropía - PCG (dirección de ejecución construction management)
Contratista Contractor
UTE Massana (Acciona - Copcisa)
Superficie construida Floor area
11.010 m²
Presupuesto Budget
11.500.000 € (PEC proyecto contract budget - project); 11.100.000 € (PEC final contract budget - final); 912.030 € (honorarios fees)
Fotos Photos
Duccio Malagamba