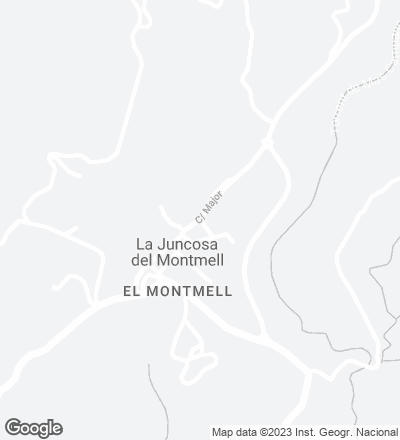 The project is located in La Joncosa del Montmell, in the comarca of Baix Penedés, where the old vineyards come together on the interior slopes of the massif that lends its name to the municipality.
At the end of a pleasant promenade from the town center and along Calle Mayor one reaches different municipal facilities. One of these is the new Teresa Godes i Domènech School which is surrounded by trees and vast fields of vines that compose a breathtaking natural landscape.
The school runs parallel to the existing sports field close to the southwest end of the plot, with the purpose of opening up the accesses that are closer to the town center. With a program that includes kindergarten and elementary school (one class per grade), the building stands as a sober volume distributed on two levels and structured in a linear and compact manner to minimize the form factor, as well as construction and maintenance costs. Its position within the plot makes it possible to take advantage of the southwest orientation for the ground floor kindergarten classrooms and the northeast orientation for the first floor elementary classrooms. At the same time, the exterior space is divided into two playgrounds (kindergarten and elementary), avoiding leftover spaces or unsurveilled areas. The site is elevated, so the school has views over the vineyards and the landscape, offering a magnificent backdrop for the playground and classroom areas.
The main volume is wrapped by a porch that protects from the sun and provides shelter, defining the welcome space to the access on the southern corner of the plot. Its form, with a clear and marked rhythm, discreetly monumental, gives the whole a tempered character. In the same way, a series of vertical openings on the main volume resume the compositional rhythm set by the porch.
Conventional building systems have been used to ensure that the construction and maintenance costs could be controlled. The use of concrete for the structure is openly expressed in the exposed finish of the porch, and the enclosure is finished in brick. The facade, made of rustic ceramic pieces in earthy tones, is integrated into the landscape of vineyards on the calcareous soils that characterize the valley. The interior spaces of the school are characterized by the warm timber surfaces and large windows offering views of the surrounding landscape.
Cliente Client
Infraestructures.cat – Departamento de Educación, Generalitat de Catalunya
Arquitectos Architects
Lluís Jubert-Taller d'Arquitectura SLP, Ferran Pelegrina i Associats SLP (UTE)
Colaboradores Collaborators
Alberto González, Marta Meléndez, Anaïs Landeira
Consultores Consultants
Ferran Pelegrina i Associats SLP (estructuras, mediciones y presupuesto structures, measurements and budget); Font i Armengol SL (instalaciones mechanical engineering); Qualitat i Serveis d'Aplicacions Informàtiques (certificación energética energetic certification); Valls i Associats taller d'arquitectura (topografía topography); Turb-Estrat SLP/Geoinformes (geotecnia geotechnics); Jordi Piera Coll (arquitectura técnica quantity surveyors)
Contratista Contractor
Construcciones Caler, SAU
Superficie Floor area
1.043,23m²
Presupuesto Budget
2.186.426€ (PEC sin iva VAT excluded)
Fotos Photos
delRioBani Architectural Photography Studio