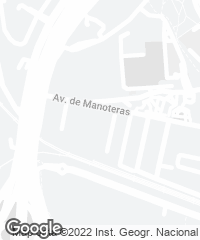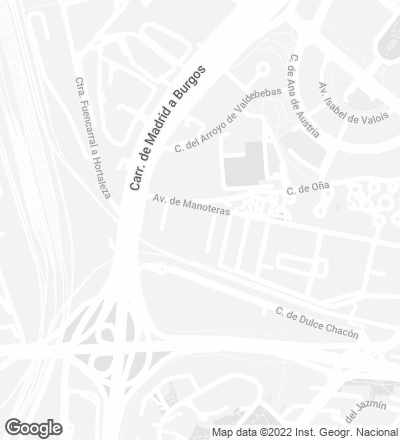 The project to remodel the old headquarters of Páginas Amarillas (phone book company) in the Hortaleza district, in northern Madrid, proposed a deep and radical transformation of the existing building. The new one had to be an efficient, representative, and functional building that would promote internal and commercial activities in the immediate surroundings. The intervention, which uses just part of the existing construction, features a new enclosure to update the building both aesthetically and technically, optimizing its global efficiency and maximizing comfort conditions.
The demolition of the upper building volume allows for unconstrained growth from the ground floor, generating a reception area in the form of a loggia with a large porticoed area. On this plinth, monumental in scale, five floors are added with perimeter work areas and a central core with a new distribution of equipment and vertical communication. On both sides of the core, two courtyards provide additional light in work areas, fit out with high-efficiency finishes and installations that can guarantee the achievement of international LEED and WELL certification.
With its precast concrete panels, the facade meets the dual requirements of structural support and climate control. The concrete rib framework, combined with long-span post-tensioned slabs, allows for a functional scheme of free plan in the work areas, providing versatility in operation.
The ribbed panels adapt their regular rhythm to the different climatic and lighting conditions through the geometry and inclination of their projecting elements, their degree of opening, and the arrangement of opaque parts, adopting four different angles depending on the orientation to minimize thermal gains from radiation, passively optimizing in this way the building's efficiency. This framework, of lightweight appearance, is integrated or separated from the building's enclosure to let climbing plants grow, helping to create a green and healthy work environment. To the north, the opaque part of the facade is increased to reduce costs and energy losses;
to the south, the enclosure is set back, creating a green strip for solar protection; on the east-west facades, the prefabricated concrete mullions are inclined to increase the shaded area. The result is a facade whose efficient solar and thermal protection generates a potent and recognizable urban identity...[+][+]
Cliente Client
Polaris North
Arquitectos Architects
b720 Fermín Vázquez Arquitectos
Equipo Team
Pedro Baltar, Carlos Beizaga, Luis Bellera, Enrique Diez, Sara García, Gustavo Gaudeoso, Laura Martín, Javier Pose
Consultores Consultants
Valladares Ingeniería (estructura, instalaciones structure, mechanical engineering)
Superficie Floor area
14.400m²
Presupuesto Budget
4.000.000€
Fotos Photos
ImagenSubliminal (Miguel de Guzmán + Rocío Romero)