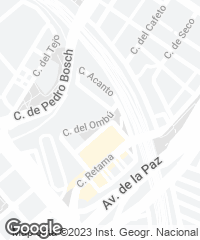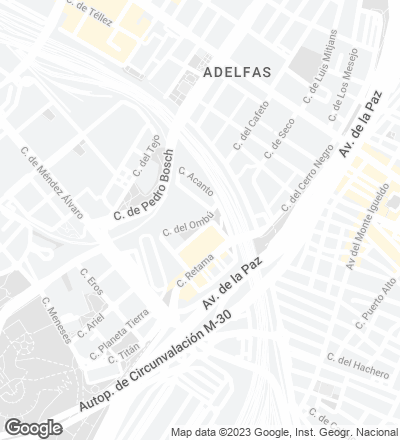 This retrofit project breathes new life into a historic industrial building in Madrid, creating a sustainable exemplar of building reuse and revitalizing the surrounding area. With over 10,000 square meters of new office space, the project unifies a unique mix of private and public land with green landscaping that extends to the adjoining Méndez Álvaro station.
Originally built in 1905 by the architect Luis de Landecho, the building once supplied energy to the surrounding areas. It later fell into disuse until the energy company Acciona acquired it in 2017, saving it from demolition, a fate that other similar structures in the area had experienced in recent years. The project capitalizes on the existing load-bearing structure that supports the pitched steel trusses. The historic building envelope has been retained to conserve over 10,000 tonnes of original brick and mitigate the environmental impact.
The lightweight structure inserted inside the space is made from sustainably sourced timber from local forests and allows for spatial flexibility, while also integrating lighting, ventilation, and other services. The timber structure will save more than 1,600 tonnes of CO2 and is recyclable and demountable. A central skylight brings natural light to the interior, reducing the need for artificial lighting, while the glazing incorporates photovoltaic technologies that generate electricity.
Taking advantage of Madrid's temperate climate, a new courtyard offers the option to work outdoors. The courtyard connects to a large 12,400 square-meter park with 350 trees featuring outdoor working spaces and areas for informal meetings sheltered by a green canopy of trees. Local species have been carefully selected to reduce water consumption, which will come from local sources. The new green, public space connects the building with the surrounding community and generates a positive social impact. Located in the lively Arganzuela district, Ombú also benefits from direct access to rail and bus networks, encouraging employees to travel by public transport.
The project was presented as a case study for the World Green Building Council at COP26 in Glasgow. Its environmental impact is compatible with the original 2°C aim of the Paris Agreement and its carbon footprint has been carefully measured. The design reduces embodied carbon by 25% when compared to a new build over the whole life of the project, while making allowances for future refurbishment. The operational energy is calculated to be 35% below normal expectations.
Cliente Client
ACCIONA
Arquitectos Architects
Foster+Partners
Colaboradores Collaborators
Ortiz León arquitectos (arquitectos locales local architects)
Foster+Partners: Norman Foster, Nigel Dancey, Taba Rasti, Pablo Urango, Emilio Ortiz Zaforas, Chris Trott, Arpan Bakshi, Martha Tsigkari, Sherif Tarabishy
Consultores Consultants
Acciona (ingeniería de estructuras structural engineering); JG ingenieros (ingeniería de instalaciones mechanical engineering); K8 Paisajismo (paisajismo landscape); Artec (iluminación lighting); Enmadera/Miguel Nevado (estructura de madera timber structure); ENAR Envolventes Arquitectónicas (fachadas facades); Addient (urbanismo urbanism) 
Contratista Contractor
Acciona
Superficie construida Floor area
19.500m² (superficie bruta total total gross area)
Fotos Photos
Nigel Young, Imagen Subliminal/Miguel de Guzmán + Rocío Romero; Rubén P. Bescós