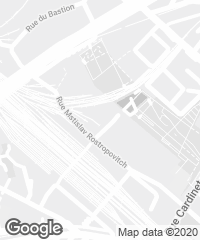 Built over a railroad crossing in northeast Paris, the Green Office® enjoy building addresses the particularities of the site. The inner structure, which had to be as light as possible, is formed by pillars and wooden beams, while towards the exterior the volume is clad in metal panels that establish a visual transition between the city and the mechanistic aesthetic of the train tracks.
The project is part of a new urban development operation aimed at revitalizing the destructured spaces around the railway barrier and the northeast boundary of Greater Paris. Besides residential and office buildings, the district has two landmarks that reinforce the civic quality of the complex: the new Palace of Justice courthouse by Renzo Piano, and Martin Luther King Park. Green Office® enjoy echoes this context by adapting its volumes in different directions, through three wings that emanate from the center and delimit a green space at the east corner. In addition, the traditional division between public and private is reimplanted, with pedestrian paths crossing the building and connecting the courtyard to the park.
On a large concrete slab – raised ten meters above the rail tracks – rises a wooden structure that apart from being light, is sustainable. Weighing a third less than its concrete equivalent, this framework is assembled in accordance with a classical system of pillars and beams locked into place by plates, screws, and nails. The loadbearing profiles of glued firwood and laminated pinewood hold up the slabs, which are also of timber, formed by cross laminated boards equipped with acoustic insulation to keep out noise.
The facade, for its part, is built with frames of solid wood, OSB boards, mineral wool insulation, and aluminum shells. These shells incorporate sliding panels that filter incoming daylight. The windows, which because of their verticality recall Haussmann tradition, are fixed and take up only 37% of the whole envelope, minimizing energy loss. Natural air is renewed through independent operable panels. The skin therefore presents multiple layers that reveal different depths and create sculptural qualities that can be perceived at varying scales. In the northeast elevation, which follows the line of the street, two slight projections mark the horizontal division between the building's base and crown, contributing to the complex's dynamic urban image.
Obra Work
Bürogebäude Green Office® Enjoy
Cliente Client
Bouygues Immobilier, Issy-les-Moulineaux Caisse des Depots, Paris
Arquitectos Architects
Baumschlager Eberle Architekten (arquitectos principales lead architect) junto con in cooperation with SCAPE (arquitectos asociados associate)
Colaboradores Collaborators
Anne Speicher (gestión estratégica strategic management); Manon Vaillé (arquitecto del proyecto project architect); Mathias Bernhardt, Juliette Chiarodo, Fabien Compan, Dietmar Eberle, Ulli Grassmann, Benjamin Grousselas, Philippe Jolivet, Jean-Marie Lesène, Giulia Settimi; Latz + Partners, Techni cité (paisajistas landscape architect)
Superficie construida Built-up area
17,400 m²
Fotos Photos
Luc Boegly