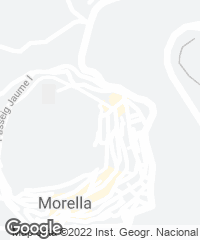 The Cádiz firm Carquero arquitectura – led by Carlos Quevedo Rojas and Carlos Peinado Maduelo – consolidated and restored the space around the Sant Francesc y Pardala towers of the castle located in the capital of the comarca Los Puertos de Morella. Working on the existing masonry was the way to avoid reinterpreting the original construction. Limestone was used for the structural elements that were added, with reinforcements of stainless steel and fiberglass, while for the new the functional elements, such as the frame joineries, the material chosen was stainless steel treated with titanium steam.
The 70-meter-long, 14-meter-high crenellated wall was strengthened on the outside with four buttresses. On the inside, fillings dating back to Carlist times that were structurally debilitating the wall were removed, and plenty of archaeological remains appeared in the process. A system of canals and pavements now channels rainwater, main cause of damage in the castle's masonry, into a preexisting outdoor pool.
Intervention on Morella Castle (Castellón)
Cliente Client
Instituto del Patrimonio Cultural de España, Dirección General de Bellas Artes (Ministerio de Cultura)
Arquitectos Architects
Carlos Quevedo Rojas, Carlos Peinado Madueño (Carquero Arquitectura)
Colaboradores Collaborators
Cristina Pérez Prado, Joaquín Martín Rizo, Alejandro Izquierdo Toscano, Gloria Rivero Lamela
Arqueología Archaeology
Ramiro Pérez Millán
Constructora Contractor
Urcotex Inmobiliaria S.L.U.
Fotografía Photographs
Joan Roig