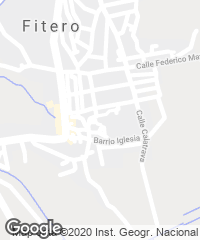 Of barely two thousand inhabitants, Fitero is one of the most visited towns of Navarre. Its greatest touristic attraction is the Cistercien monastery of Santa María la Real, whose construction started in the 12th century. Among the auxiliary spaces which are arranged around the cloister, the slender volume of the library stands out in the southwest angle, whose construction on the walls of the first refectory has been documented from the beginnings of the 16th century. Within the municipal program for the partial recovery of the monastic premises, the former library and the old kitchens have been recently renovated in order to house different cultural proposals.
The three large rooms upon which the intervention is centered take up adjacent parallelepipeds, with a same bay but different morphology and constructional characteristics. The kitchens, which occupy the smaller prism, have been transformed into a unitary space in which the entrance of light has increased thanks to the replacement of the original vault with a wooden roof crowned by a lantern. This small space filters the routes of access to the monastery and starts a sequence dominated by formal contrast and light change that extends to the refectory – a dark and horizontal space appropriate for audiovisual presentations – spanned by a reticular framework of laminated wood evoking a coffered ceiling. A freestanding metallic staircase descends from these beams and unfolds upon the axis of the room. This allows to accentuate its direction, underscore the wall perimeter and frame the space that opens to the cloister. The staircase leads to the room that for centuries served as library, whose fragile vault had to be pulled down to build on it a roof structure to guarantee its protection. With its reconstruction, the colors have been recovered and the edges have been accentuated, delimiting a bright and ascending space.
This programmatic, spatial and luminic superimposition is echoed by the use of materials, which define horizontal strata both in the interior and on the facades. So, the cornice of the kitchen defines the springing line of the masonry walls, which acquire a plinth-like appearance on the higher volume, where stone and brick walls are combined. The clay of the pavements, the plaster works or the alabaster link with monastic tradition this search for balance, one that may bring out the presence of the original elements.
Cliente Client
Ayuntamiento de Fitero
Arquitectos Architects
Miguel Ángel Alonso de Val, Rufino Hernández Minguillón
Colaboradores Collaborators
Eduardo Arilla, Susana Iturralde, Victor Hernández, Patricia Sánchez
Contratista Contractor
Padenasa y Arbeola
Fotos Photos
Jose Manuel Cutillas-Proyectar Navarra