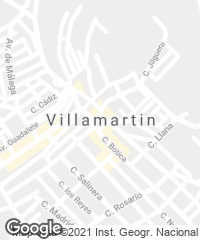 The firm Carquero arquitectura – headed by Carlos Quevedo Rojas – carried out the project to consolidate the Homage Tower of Matrera Castle in Villamartín, a municipality of the county of Sierra de Cádiz. The fortress was built in the 9th century on Pajarete Hill because of its strategic position on the Nasrid border. In 1985 it was declared a site of cultural interest by the regional government of Andalusia.

Subsequently the tower lost some of its volumes, in a partial collapse that affected its stability. With this intervention the Cadiz practice sought to consolidate the building structurally; distinguish the added elements from the original ones, thus complying with Law 14/2007 of Andalusian Historical Heritage, which prohibits literal reconstructions; and restore the tower's original volumes, texture, and tonality.

The same limestone fallen from the old tower was used to construct the buttresses and reinforcements of the deteriorated inner cores. The top was executed with the idea of consolidating the wall that remained after the collapse, preserving the original cladding of the inner side as well as a fresco painting of a boat. As Carlos Quevedo explains, "all the edges have been rethought from details of existing geometrical elements, to millimetrically mark the original volume." The restoration of the medieval construction is undertaken by means of a continuous cladding of lime mortar "which clogs the existing gap and enables the readability of the architectural whole. In the same way, the upper casing determines the constructive phases, enhancing the original battlements, which were hidden by their stratigraphic superposition.

Shrouded in controversy, the intervention has been criticized but has also come out the winner, by popular vote, of the A+Architizer international award, in the preservation category.