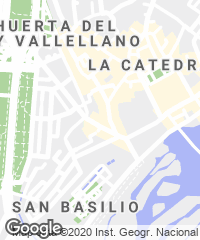 Close to Córdoba's fortress, just a few blocks away from the Mosque, the Martyr's cemetery conceals beneath it the remains of a rich complex of halls that presumably integrated the baths of the Arab fortress. Discovered in 1903, the site was dug out once again between 1961 and 1964, and the findings have remained uncovered ever since. To ensure the preservation of this submerged architecture and heal the wound opened on the urban space because of the excavations, a new intervention now attempts to reconcile the conflicts between the Córdoba of the Caliphs and the contemporary city.
The essential element of the proposal is a horizontal plan that separates urban activity from the archaeological substratum, providing a terrace for the square and a roof for some ruins that draw an addition of autonomous elements juxtaposed around courtyards and gardens. A series of openings on this platform establish links between what is seen and what is concealed, allowing to contemplate from the plaza the vaults that cover the baths. In this way it has been possible to preserve the starred openings of the vaults and the remaining mechanisms used to light up and ventilate the interior. A crevice on the southern flank of the plaza makes perceptible the superposition of levels and channels the access to the baths. The ramp that descends to the entrance initiates an itinerary that goes from one end to the other of the site, ceremonially stretching the transit between two such distant periods in time. In its role as link between realities, the proposed architecture is overtly abstract, establishing a pattern of axes in which the rest of the pieces are set.
Because it is certain that the area of baths has not yet been totally excavated and that there are probably more remains yet to be discovered in the south of the plaza, the intervention is at once closed – as it responds to the specific demands of the urban space – and reversible – as it uses structural solutions which can be easily disassembled –. In this way, the retaining walls are formed by prefabricated plates between metallic channels and the roof rests on large beams of laminated wood, so avoiding the monolithic systems commonly used in subterranean construction works. A wall of translucent glass brick and stainless steel slats closes the main access to the premises, providing a soft light that recreates the peaceful atmosphers associated to the oriental culture of bath.
Cliente Client
Junta de Andalucía
Arquitecto Architect
Francisco Torres Martínez
Colaboradores Collaborators
Antonio Murillo, Grupo Nervión
Contratista Contractor
Freyssinet
Fotos Photos
Fernando Alda