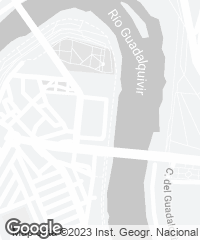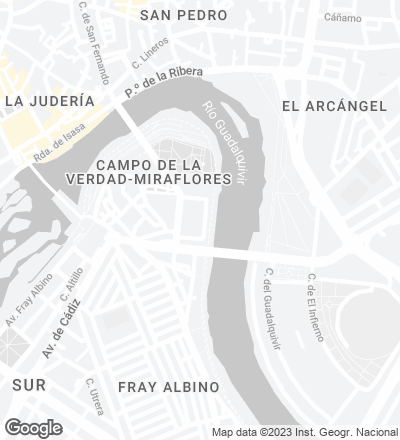 Mistrusting the supposed efficiency and container so often used nowadays, we devised a building closely linked to a place and to a faraway memory. A building in which each space is configured individually, in a time that is subject to transforming itself and expanding in sequences of different dimensions, uses and spatial qualities. We have always admired the simplicity of the secret geometric laws through which Cordovan artists, craftsmen and master builders from a remote past were capable of generating the multiple and isotropic space of the Mosque, the faceted complex of vaults and honeycombs, the permutations of the ornamental motifs of latticeworks and pavements, or the rules and narrative rhythms implicit in the poems and stories of Islamic tradition.
The Contemporary  Art Center of Córdoba asserts its presence as a common space in which to express and exchange ideas, visit installations, exhibitions, or simply enjoy the views of the Guadalquivir River. 
Just like those literary structures that included a story within another story, within another story – a neverending story –, we took a system as starting point for the project, a law generated by a self-similar geometric pattern, originated in a hexagonal form, which contains at once three different types of halls, of 150, 90, and 60 square meters. Like a combinatorial game, the permutations of these three precincts generate sequences of different halls that can eventually configure a single exhibition space. The artists' workshops on ground floor and the labs in the upper level are contiguous to the exhibition halls, to the point that there isn't even a strict differentiation between them: at the workshop it will be possible to hold exhibitions while using the halls for artistic production spaces. The auditorium – the black box – is conceived as a scenic space for theater performances, conferences, films, or else as a unique space for audiovisual exhibitions.
The facade onto  the river becomes the  true protagonist of the building's exterior. It is is conceived as a screen perforated by polygonal openings behind which monochromatic LED lamps are placed. 
The materials help to achieve the art factory character that pervades the project. In the interior, bare walls and slabs of concrete and continuous pavings establish a spatial structure susceptible of being transformed individually through different interventions. A network of electric, digital, audio and lighting infrastructures ease access to sockets and connections in the whole place. Towards the exterior the building asserts its presence by means of a single material: prefabricated concrete fiberglass panels – GRC – which clad opaque and perforated facades, or else from the flat roofs or the sloping ones of the halls. 
The media facade was built from 12 types of prefabricated white GRC panels, perforated following 16 different geometries for the openings, into which monochromatic LED lights were inserted.  
El proyecto se genera a partir de un patrón geométrico hexagonal que define tres tipos de salas —de 150, 90 y 60 metros cuadrados—, unidades combinables que posibilitan distintas opciones expositivas.
Cliente Client
Junta de Andalucía. Consejería de Cultura
Arquitectos Architects
Fuensanta Nieto, Enrique Sobejano
Colaboradores Collaborators
Vanesa Manrique (arquitecto de proyecto project architect); Sebastián Sasse, Beat Steuri, Carlos Ballesteros, Mauro Herrero, Bart de Beer, Alexandra Sobral, Juan Carlos Redondo, Rocío Domínguez, Nik Wenzke, Gilta Koch, Jesús Gijón (equipo team); Fuensanta Nieto, Enrique Sobejano (dirección de obra site supervision); Miguel Mesas Izquierdo (aparejador quantity surveyor); Nieto Sobejano Arquitectos, Juan de Dios Hernández, Jesús Rey (maquetas models)
Consultores Consultants
NB35, Alberto López (estructura structure); R. Úrculo Ingenieros Consultores (instalaciones mechanical engineering); 3i Ingeniería Industrial (protección contra incendios fire prevention systems); Ignacio Valero, Arkilum (iluminación illumination)
Fachada mediática Media Facade
Nieto Sobejano Arquitectos en colaboración con Realities: United
Contratista Contractor
FCC
Fotos Photos
Fernando Alda, Roland Halbe