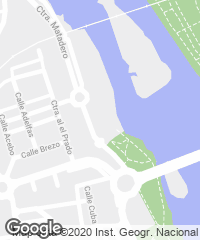 With a dense program that includes an auditorium for music, theater, opera and an exhibition hall, the new congress center of Mérida has, above all, a strong symbolic load. Located on the banks of the Guadiana river, between the bridges of Ferrocarril and Lusitania, it takes on its public and institutional function with a compact and expressive volume that aims to be timeless, as a vestige of the past that looks over a city that is old and modern at the same time.
Settled over the western bank of the Guadiana river, the congress center is conceived as a massive volume that folds to generate both its main halls and the areas of relationship with the city and the river. 
The building has been conceived as a unitary and massive piece that bends over to define, amid its filled and void areas, a raised public terrace that connects river and urban fabric, also articulating the essential elements of the program: the main and the smaller hall, and the exhibition area. The rule that generates the halls – the staggering and folding of the upper and lower slabs – is expressed in section by the continuity of the central void, that also allows both spaces to function independently of the exhibition areas, inserted in the plinth.
The main hall, seating one thousand people, has a rectangular floor plan on the northern side with stalls generated by slopes of changing inclination, which can be accessed from the street or from the platform. Along with the geometry and volume of the hall, the acoustic ceiling made of wood panels clad in zinc plates ensures the best acoustic conditions. The smaller auditorium, on the southern side, includes behind the stage a wide glazed entrance that is linked with the courtyard of access: a zinc gate closes the hall when events are held and shows, when open, the horizontal section that traverses the entire building. The areas for exhibitions and lectures, conceived as a modular sequence of empty spaces, are arranged in the ground and lower-ground floors.
The stone quality of the building's facades is achieved by way of a cladding of prefabricated concrete slabs, which are engraved (using a formwork of rubber molds) with a fragment of the city plan. 
The facades of the prism, that give the auditorium a solid appearance, are in fact built from a structural and modulated framework of reinforced concrete that supports a cladding of concrete panels, prefabricated this time. Like the opus incertum of the Roman factories, this material is strongly pigmented and bears a peculiar texture: the sculptor Esther Pizarro has carried out a bas-relief inspired by the city plan that, developed in five rubber molds, can be combined in four different ways. The building thereby shows a rough exterior face that contrasts with the polished interior finish, of metal and glass, that clads the two halls of the auditorium.

Cliente Client
Junta de Extremadura
Arquitectos Architects
Fuensanta Nieto, Enrique Sobejano
Colaboradores Collaborators
C. Ballesteros, D. Bouvier, M. Herrero, L. Labrandero, P. Quero, J. C. Redondo; M. Mesas, F. Benito, P. Miranda, J. L. Periañez, M. Rica (aparejadores quantity surveyors)
Consultores Consultants
NB 35, J. Jiménez (estructura structure); Geasyt, G. Álvarez (instalaciones mechanical engineering); H. Arau (acústica acoustics); Juan de Dios Hernández & Jesús Rey (maquetas models)
Contratista Contractor
Ute Placonsa-Joca
Fotos Photos
Fernando Alda