Centro Europeo de Innovación, Armilla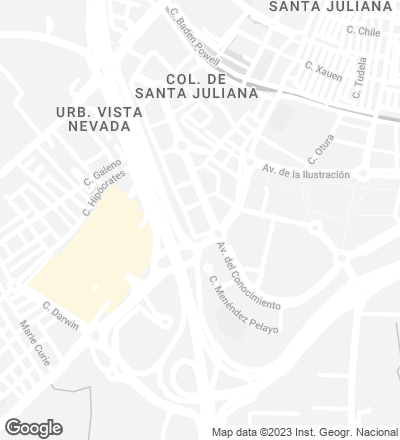 Aiming to promote the specialization of health services from the fields of education, research and technology, the Fundación Campus de la Salud was founded in 1997 in Granada, with the participation of both private and public entities. Among its objectives was the creation of a campus of the same name, an extension of over fifty hectares to the southwest of the capital, between the latter and the town of Armilla. The urban plan for this precinct determined a combination of uses in the different sections, and the placing of large green areas parallel to the beltways surrounding it. The European Center of Business and Innovation now goes up next to one of these roads, one of the first buildings completed that is devoted to activities linked to the promotion of the biosanitary industry.
Four transversal blocks (offices and laboratories), a longitudinal bay (factories and storage sheds) and a cylindrical volume (training and management) make up, joined by an outdoor corridor, the new center. 
The complexity of the program, that was to include offices, laboratories and warehouses, as well as communal facilities and parking lots, lead to designing freestanding pieces articulated by an open longitudinal space that also serves as communication corridor. This scheme is repeated in height when the corridor adopts the shape of a gallery and connects the different levels. The result is a sort of small urban pattern that includes landscaped courtyards in transversal direction, and thereby, natural illumination and a blurring of the frontier between the workspaces and the outdoor leisure areas.
The buildings which contain the small businesses are located by the highway, acting as acoustic barrier for the remaining facilities and allowing the access of heavy vehicles. On the opposite side of the central corridor are four identical blocks that house the laboratories and offices. With an open-plan they look towards the south, where they meet the gardened courtyards in the foreground and the tops of Sierra Nevada at a distance. Stone, glass and wide latticeworks form these prisms, while a wooden box is attached to the opposite side of each block to wrap corridors, staircases and systems. A cylindrical volume of lower height stands out in the entrance of the complex and houses the management and administration offices, classrooms and common facilities. The geometric simplicity and the use of the same materials –limestone on the facades, granite on the paving, wood on the latticeworks and communication cores – allow to identify the complex as a unique entity, giving it a friendly and expressive appearance of technological building.
The use of different materials (limestone on the facades, wood on the latticeworks and communication cores, and stainless steel on the sheds) reflects the variety of functions that the building serves.
Cliente Client
Instituto de Fomento de Andalucía Arquitectos Architects Francisco Martínez, Rafael Soler
Consultor Consultant
Pereda 4 (ingeniería engineering)
Contratista Contractor
Ingeconser
Fotos Photos
Lluís Casals