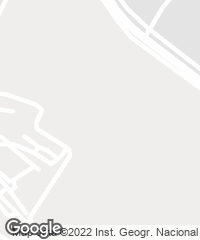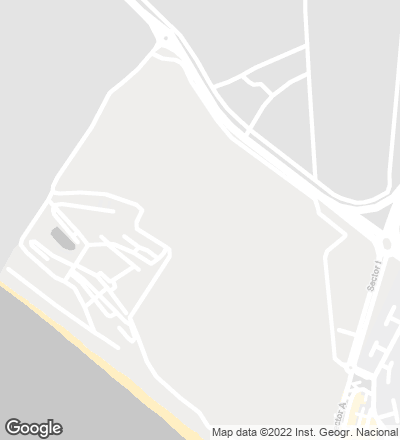 In the periphery of Doñana National Park, next to the village of Matalascañas, a 150 hectare plot between the coast and Mazagón highway was chosen to raise two buildings that will serve to connect the park and the urban center: a research institute for the University of Huelva and a visitors' center, both of which have been recently completed. Located in a sand cliff that goes up almost ten meters over the beach level and with a pine forest as backdrop, the visitors' center is half-buried in the sand in order to leave all the protagonism to the sinuous horizon of dunes. With its double task of maintaining the skeletons of cetaceans washed ashore in Doñana's coasts and providing information on the surroundings previous to the visit to the park, the building stands as a closed container topped with a roof that imitates the shifting profile of the dunes.

The program is organized in three continuous bands forming a linear volume parallel to the plot's slope. A first bay gathers the access area, the shop, the library and the porch that illuminates these spaces, and is attached to the intermediate hall devoted to the exhibition of animals, which is the main purpose of the program. A sequence of unevenly contoured halls can be accessed from this central foyer, proceeding through a filter of closed spaces that house the control facilities. The museum's only reference to the exterior occurs in the cetaceans' exhibition hall, where light reflected on the porch pond filters its way in through the irregular columns of the raised catwalk on one of its sides. Only when leaving the building, from the shop, does one discover this lighting mechanism. The opposite end of the building is finished off with the premises devoted to workshops and conservation laboratories, which are arranged around a small courtyard.

The unity of a set of such disparate spaces and uses is achieved by means of one roof that follows the floor plan's intricacies and a continuous section that adapts itself to the perimeter. A contrast of materials between the vertical facades and the roof serves to accentuate the expressive character of the resulting volume. The roof's zinc sheeting comes together in a sharp edge with the perimetral concrete walls; The same material is also dominant in the interior of the rooms. In contrast, wood appears in the vertical slats that protect the few windows of the museum and as paving blocks in the sloping floor of the halls.

En la nave dedicada a la exposición de ballenas, la luz se filtra a través de las columnas que sustentan la pasarela elevada en uno de sus flancos; el lado opuesto acusa el contorno irregular de las restantes ámbitos del museo.
Cliente Client
Consejería de Medio Ambiente, Junta de Andalucía
Arquitectos Architects
Antonio Cruz & Antonio Ortiz
Colaboradores Collaborators
Belén Rivera; Manuel Delgado (aparejador quantity surveyor)
Consultores Consultants
Tedeco: E. Cabrera, M. López (ingeniería engineering); Gadian: E. González, C. Muñoz (instalaciones mechanical engineering)
Contratista Contractor
EGMASA; Heraklith (aislamiento insulation); Jorala (cubierta de zinc zinc roof)
Fotos Photos
Fernando Alda