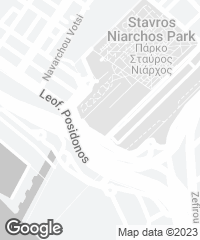 In the municipality of Kallithea, four kilometers from Athens, is a huge tract of land that was the site of a racetrack during the 2004 Olympics, and then an immense parking lot. These uses degraded the place and isolated it from the rest of the urban fabric, but the enclave has now been gained back for the city through the creation of a 170,000 sq m landscaped park. At the south end of it rises an artificial hill, on which perches the Stavros Niarchos Cultural Center, looking seaward like an ancient Greek temple.
The reference to the temple is reinforced by a plinth conceived as a kind of crepidoma that raises it off the ground, as well as by the curtain of slender pillars that surrounds the building, and the immense flat roof hovering over the two volumes comprising the complex – one to house the National Library of Greece, and the other the Greek National Opera –, with an open space, the so called Agora, in between, providing access and connections between the two main facilities.
The opera house has two auditoriums, seating 450 and 1,400. The larger one imitates the arrangement of Italian-style theaters, with four tiers of boxes, a horseshoe orchestra, a proscenium arch, and behind this, an enormous stage box formed, vertically, of an orchestra pit, a basement storage, and the upper part of the flytower, and horizontally, of the stage, the rectangular area behind it, and two spacious wings allowing accumulation and quick changing of sets.
The entirely glass-walled library reading room sits on top of the building just underneath the large roof. A square horizontal transparent box, it enjoys 360-degree views of Athens and the sea. The site's visual and physical connection with water continues in the park with a new canal that runs along a north-south, main pedestrian axis, the Esplanade.
The canopy roof provides essential shade and has been topped with 10,000 sq m of photovoltaic cells, enough to generate 1.5 megawatt of power for the library and opera house. This field of cells should allow the building to be self-sufficient in energy terms during normal opening hours. Wherever possible, natural ventilation has been used, and the combination of both active and passive strategies has allowed the complex to aim for a LEED platinum rating.
Obra Work
Centro cultural Stavros Niarchos Stavros Niarchos Cultural Center
Cliente Client
The Stavros Niarchos Foundation
Arquitectos Architects
Renzo Piano Building Workshop, architects en colaboración con in collaboration with Betaplan.
Colaboradores Collaborators
G.Bianchi, V.Laffineur (socio y asociado responsables partner and associate in charge); S. Doerflinger, H. Houplain, A. Gallissian with A. Bercier, A. Boldrini, K. Doerr, S. Drouin, G. Dubreux, S. Giorgio-Marrano, C. Grispello, M.A. Maillard, E. Ntourlias, S. Pauletto, L. Piazza, M. Pimmel, L. Puech and B. Brady, C. Cavo, A. Kellyie, C. Menas Porras, C. Owens, R. Richardson; S. Moreau (equipo de diseño design team); O. Aubert, C. Colson, Y. Kyrkos (maquetas models)
Consultores Consultants
Expedition Engineering/OMETE (estructura structure); Arup/LDK Consultants (instalaciones, sostenibilidad, iluminación, seguridad e informática MEP, sostenibiliyy, acoustics,lighting, security, IT); Theater Project Consultants (equipamiento escénico theater equipment); Front (fachada facade engineering); Deborah Nevins & Associates/H.Pangalou (paisajismo landscaping); C&G Partners, M.Harlé/J.Cottencin (señalización digital signage); Faithful+Gould (gerencia y control de presupuesto project and cost management)
Superficie construida Built-up area
88.000 m²
Fotos Photos
Michel Denancé; Yiorgis Yerolymbos