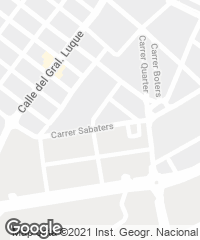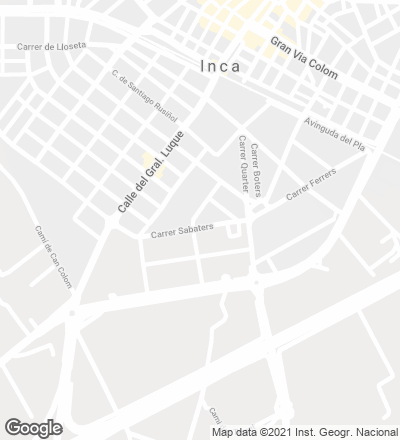 A corridor of offices runs round the triangular border of the site to create a travertine-paved garden with orange trees.
This Project is the result of a competition that was held as part of the BIT (Balearic Information and Technology), a program created by the Balearic government to promote innovative models of corporate development. The situation of the parcel within the Inca industrial complex, an incoherent context of heterogeneous constructions, led from the very start to the idea of a self-withdrawn precinct, one which refrains from imposing any kind of urban criteria on its surroundings. Practically the entire triangular lot is taken up by a blind stereotomic box of marés stone. Evoking Islamic architecture, its hermetic limits give no hint of the secret garden it shelters within. Only a fold in the low wall near one of the corners of the triangle invites one to enter. The ramp and stairs along the wall are the building's only contact with the street.
The transparency of the building is only interrupted by the beechwood furniture which demarcates the offices, concentrates the installation zones and the filing areas.
With the premises thus defined, a bay of offices runs parallel to each of the borders, leaving a free strip close to the low wall. The work areas around the courtyard receive direct sunlight; those along the edges of the parcel get reflected light. The exterior opacity is forgotten altogether as the travertine box opens its heart to the sky. Everything is arranged in a 6 x 6 meter grid, including the orange trees of the courtyard. White-painted cylindrical pillars are the nodes of this grid, and hold up a continuous flat slab that stretches on outward to protect the interior from excessive sunning. Frameless glazing and uninterrupted travertine flooring merge the offices with the garden. Indoors, transversal partitions of beechwood are conceived as furniture pieces. Detached from the ceiling and walls, they serve as storage niches besides concentrating all electrical and air conditioning equipment.
The basement takes up the entire breadth of the parcel. The homogeneity of the slab that covers it is broken only by the sunken meeting room that appears amid the trees, like an open-air agora. The twist of the tiers here are a counterpoint to the regular matrix that governs the complex. Storage rooms, depositories and files are assigned underground, toplit by glazed perforations integrated into the paving of the courtyard. Jasmines, wisteria and bougainvillea are planted in a box that surrounds the fence. With the sensuality afforded by this vegetation, the austerity of the geometric and constructive approach acquires the Mediterranean complexion perhaps desired by Mies van der Rohe, whose figure graces the sections of the project.
Promotor Developer
Gobierno Balear (Consejería Agricultura, Comercio e Industria)

Arquitecto Architect
Alberto Campo Baeza

Arquitectos colaboradores Collaborators
Ignacio Aguirre López, Antonio Pérez Villegas, Antón García-Abril

Estructura Structure
Andrés Rubio Morán

Aparejador Quantity surveyor
Julio Pérez Amigo

Superficie Floor area
1.700 m² (sobre rasante above ground); 3.200 m² (bajo rasante below ground)

Contratista Contractor
FCC

Fotos Photos
Hisao Suzuki, Raúl del Valle