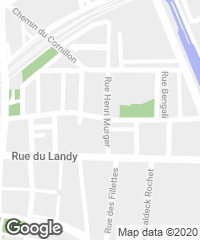 The Casarès-Doisneau intermunicipal school and social center in the French city of Saint-Denis comprises two buildings organized around a courtyard and characterized by the strong stamp of wood, as much in the structures as in the finishing touches.
The first of these buildings is a compact volume that contains all the center's sport facilities, and it consists of a large triangulated frame of laminated wood clad on the outside with polycarbonate panels filled with nano aerogel, very light and translucent. These present optimal properties as thermal insulators (see Arquitectura Viva 149).
For its part, the second building, where the classrooms and the rest of the facilities have been organized, presents a perimetral structure of wooden panels 20 centimeters thick, with thermal insulation incorporated inside them, and these are covered with a wetproof sheet and a steam barrier in order to prevent condensations in the gaps of the facade, a common cause of defects in the wood. Exteriorly the facade shows two horizontal bands. The lower one presents itself in the manner of a continuous plinth, and is made of gold-colored aluminum panels perforated with three different patterns, in accordance with a fine lattice that creates a moiré impression.
Visually resting on this plinth is the facade, a dense scheme of 60 x 40 millimeter strips of larchwood that have been fixed to a substructure of metal Z profiles and rigidified by diagonals, between which a series of calligraphic motifs are arranged, rhythmically decorated; the result of tapering the strips of the lattice as if they had been carved by the lathe of a woodworker. Decoration is also present in the openings of the facade: the wood carpentry is screwed to a frame of the same material, and finished externally with jambs and a frame of Douglas pinewood bearing a woodworker's filigree motif similar to that of the lattice and the plinth.
Obra Work
Escuela y centro social Casarès-Doisneau Casarès-Doisneau Inter-municipal School Group in Saint-Denis.
Situación Location
3, rue Cristino Garcia / Saint-Denis 93 (France).
Programa Program
escuela infantil (10 unidades) y escuela primaria (17 unidades), centro de ocio, comedor y pabellón deportivo Nursery school (10 classrooms) and primary school (17 classrooms), leisure center, dining hall and sport hall.
Fecha Date
2011.
Superficie construida Floor area
7.070 m².
Presupuesto Budget
14.000.000 euros (1.980 euros/ m²).
Plazo de ejecución Execution time
15 meses?months.
Cliente Client
Saint-Denis and Aubervilliers Municipal Councils.
Arquitectos Architets
AAVP architecture / Vincent Parreira, www.aavp-architecture.com
Gestión de proyecto Project management
Elise Reiffers et Thomas Rault Architects.
Consultor de ingeniería Engineering consultant
INCET, www.incet.fr
Ingeniería de madera Wooden structure engineering
Sylva Conseil, www.sylva-conseil.fr
Ingeniería medioambiental Environmental engineering
Oasiis.
Acústica Acoustics
Impedance.
Señalética Signage
Ateliers 59, www.ateliers59.com
Constructor Main contractor
Bateg + Arbonis (Vinci Group), www.vinci.com
Fotos Photos
Luc Boegly.