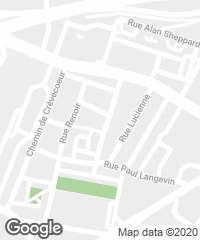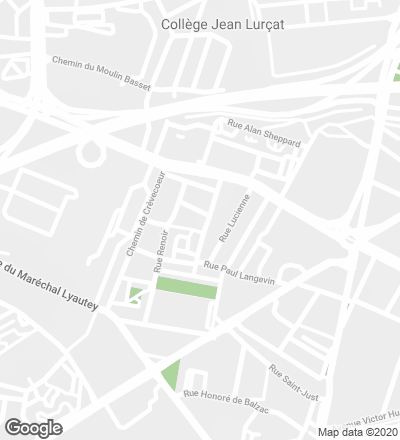 The episodes of civil unrest that have taken place in the peripheries of French cities, the last of which were the riots of 2005, have often been related to the urbanism of the second postwar and its housing blocks, which are occupied mostly by immigrant population and suffer permanent security problems. The ravages of this technocratic and rationalist architecture in some French banlieues have sometimes led to the demolition of the buildings, and this is what happened in La Courneuve on the site at hand, in the summer of 2004, with the demolition of the longitudinal Ravel and Présov blocks of flats, located in the so-called 'Cité des 4000'. This site is now the home of the Josephine Baker education complex, taking up a trapezoidal plot.
The project departs from the possibility of taking an aseptic approach to such a turbulent context, and so the oblique and broken forms are combined respecting a band of terrain in which one of the residential blocks went up, and creating a complex that is fragmentary in its external form but reflects a unitary and comprehensible scheme towards the interior. In this sense, the different elements of the program are distributed around an angular central courtyard. The height and density codes defined a proposal in which the kindergarten and elementary school share the same space: the former are pushed to the east flank and the latter to the west. Although they have separate accesses, both are connected through the large courtyard and share a series of facilities, such as the library and the dining room. The classrooms of the elementary school are closed to the exterior and open up along the sides to large interior courtyards, whereas those of the kindergarten are located on the first floor and cantilever over the access. Furthermore, the recess area stretches over the roof of most of the school, separating the spaces reserved for children of different ages.
Undoubtedly, the building's most outstanding element is the predominant intense orange tone. The ramps, the broken lines and the cantilevers together create a special atmosphere for children once they cross the threshold and enter the school, finding themselves in an oneiric and playful atmosphere that offers them the experience of a world different to that of adults. Inside, the use of natural materials such as linoleum or wood helps to give the experience of learning a warm and domestic character. 
Cliente Client
Ville de La Courneuve
Arquitecto Architect
Dominique Coulon, Olivier Nicollas
Colaboradores Collaborators
Sarah Brebbia, Benjamin Rocchi, Arnaud Eloudyi, Florence Haenel
Consultores Consultants
BATISERF (estructura structure); JOST (instalaciones mechanical services); Bruno Kubler (paisajismo landscape)
Contratista Contractor
SNRB
Fotos Photos
Eugeni Pons; Olivier Nicollas