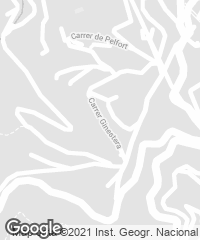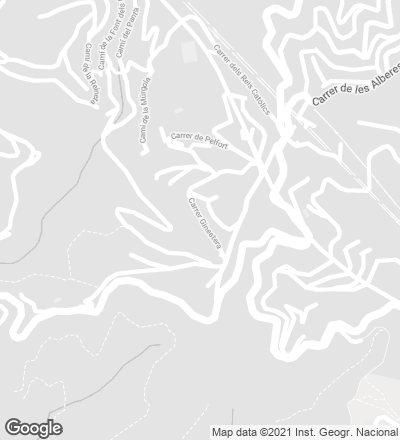 Though designed as an extension of another dwelling on the lot that was built way back in the forties, this house in Vallvidriera presents itself as an isolated volume, separated from the old construction by an exterior staircase. Among the conditions that influenced the project were the sharp slope and preexisting platforms of the site, as well as the fact that the magnificent views of Montserrat are to the northwest whereas the slope offers better views in the opposite direction.
The solution is a house designed on four stepped levels. The two intermediate levels correspond to the domestic program, while the top floor comprises the studio and terrace and the semi-basement accommodates the garage and entrance hall, in contact with the street. The shape and slope of the lot have made it necessary to distribute the more extensive communal areas on the first floor, while the bedrooms are placed at ground level, in direct relation with the garden. Cut up by the transversal balcony that prolongs the living room and framed by a sculptural canopy, a large glazed facade serves as a visual link between the two levels of the domestic program.
The staircase serving all the floors is situated flush with the vertical plane that is formed by the level difference between the two main platforms. On the first floor it occupies a central place and acts as a separator between the living room and the kitchen-dining zone. This zone opens on directly to the higher, sunnier side of the garden via a large glazing, partly covered by a canopy resembling the one on the opposite facade. A wooden floorboard prolongs the dining space outward and continues to turn the corner of the facade and meet with the exterior staircase. It is at this point that the plane of the side facade is set inward, creating a small foyer before the kitchen door. Such setbacking is repeated on the other lateral facade as a way of illuminating the staircase.
In contrast with the main facades, which are dominated by large glazed openings, the two side facades are practically blind surfaces expressing the stepped composition of the building as well as the inflexions and setbacks of the enclosing planes. The terse, light gray plaster treatment of these panes further reinforces the sculptural quality of the house. Afar view of the building clearly reveals the regular, geometric volumetry of the studio, with the large horizontal opening to the roof terrace...[+]
Arquitectos Architects
Esteve Bonell, Josep Maria Gil, Desirée Mas
Colaboradores Collaborators
Enríe Regó (aparejador quantity surveyor), Robert Brufrau (estructura structure)
Fotos Photos
Lluís Casals