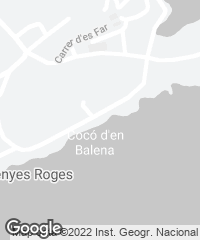 After leaving Australia in 1966, Utzon decided to build a getaway where he could spend time with his family, and in Mallorca he found the ideal place. However, as time went by Can Lis became, as happened with his other few works, a pilgrimage site for architects, and in 1994 the family decided to move to Can Feliz.
Can Lis sits up high on a cliff, twenty meters above the Mediterranean Sea. The house is configured as a series of pavilions that seek the best orientation. From the path that borders the coast, the house is hidden behind a jagged wall, and only a hall and a brick bench mark the entrance. After crossing the threshold, an outdoor route connects the courtyards that give access to each one of the volumes. Instead of lining up facing the sea, the different volumes follow an order that is based on the position of the sun, the trees, and the relationship between the different functions. The house reproduces the habitat of the first dwellers, for whom life took place in the open air and the cave was the shelter. That is why here the interiors offer a protected surface on which the furniture rests and deep openings amplify the thickness of the walls. The wood frames, placed on the outside, are invisible from the interior of the house.
When studying the traditional constructions of the island, Utzon found a system – using local sandstone blocks and brick slabs – that adapts perfectly well to his building philosophy based on modulation. The floors, built with Santanyí stone slabs, reflect the geometry of the ceiling, emphasizing the precision and systematic character of the project. In 1992 a series of renovations were carried out to fix leaks, so ceramic tile flashing was placed on the walls. The construction of Can Feliz started that same year, far from the sea and on a mountainous site near Santueri castle. 
The floor plan of Can Feliz is distributed following a tripartite scheme on a terraced platform that adapts to the terrain. In this case, the different rooms are placed parallel to one another and compactly, without interstitial spaces between them. The side walls that separate the three main living areas are elevated with respect to the rest by means of a stepped profile rounded off with ceramic tiles. This hierarchy, where some walls stand out from others, breaks up the bold volume that characterized Can Lis, creating a less abstract image, closer to the architecture found on the island.