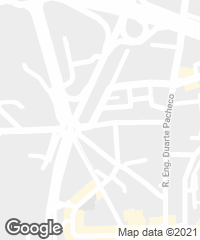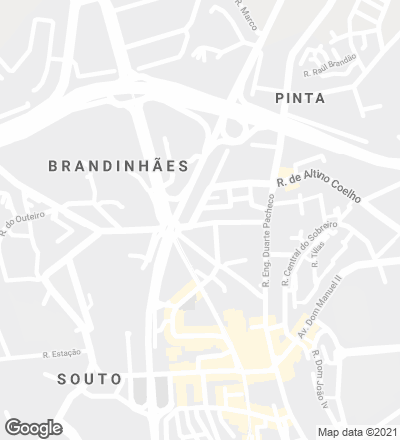 Maia has experienced an extraordinary development over the past years. It is still a large town, but its growth has been orchestrated following the objective of becoming a city: it has big avenues, a large civic center and an office tower next to the Town Hall; compared to the 'new city', the historic center seems tiny. Maia is also very close to Porto, an advantageous position that has turned it into a residential extension of the city.
Not very far from the new center, this collective housing building has 32 flats and eight commercial spaces on ground floor. The block, with a rectangular floor plan, is divided into two by a central core containing elevators, stairs, bathrooms and storage spaces, permitting a more flexible layout in the rest of the floor area. The dwelling type is based on a simple linear scheme organized by a circulation corridor measuring 1.4 meters wide, which runs parallel to the structural core. The bedrooms follow a square-shaped module of 5.9 meters in width, creating bedrooms of 2.95 meters and parking spaces of the same size. Outside, the whole prism is clad with fixed and mobile aluminum blinds, obtaining in this way different 'compositions': the building can look like a mute and abstract box upon which the sun sparkles, or become alive when some of the windows are opened. The windows are also made of aluminum in its natural color, which along with the wood boards of the floors and the plaster-covered walls offers a neutral and bright spatial sensation. The eastern elevation includes two entrances, four of the retail spaces, and the entrance to the garage. The western facade houses the remaining commercial spaces.
The plot also has enough space for a parking lot and a small garden, where the acid green of the grass is combined with the grayish one of the dense line of shrubs, and with the vertical presence of some still young trees. A metallic gate gives access to the underground garage that completes up to 49 parking spots. When this gate and also the blinds of the office windows are open, one perceives a suggestive transversal perspective with natural light and the garden as backdrop. A special attention has been paid to the communal spaces, with entrances where wood and light-colored stone are dominant, as well as to small details like the posts with numbers and the entryphones, or the wood panels painted white with a fold in natural color that conceal the panelboards.  
Arquitecto Architect
Eduardo Souto de Moura
Colaboradores Collaborators
Tomás Neves, José Carlos Mariano
Consultores Consultants
Enarte (estructura, electricidad e instalaciones structural, electrical and mechanical engineering); Laura Costa (paisajismo landscape design)
Contratista Contractor
Ribeiro de Sousa & Silva Correia
Fotos Photos
Duccio Malagamba