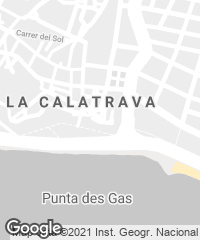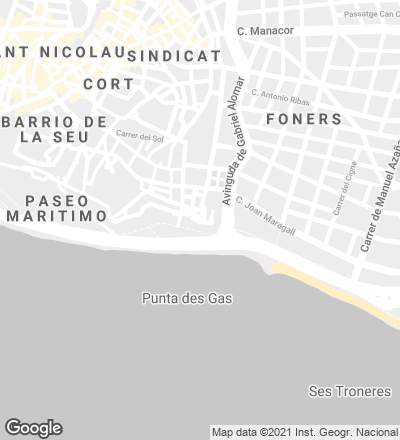 Torn down since the end of the 19th century in order to let the city grow, the walls surrounding Palma de Mallorca have preserved to this day a few stretches – those located closer to the sea, towards which the city could not extend further. The fifth phase of a project which began in 1983 and that has developed over the course of three decades, the refurbishment and remodelation of the Baluarte del Príncipe wraps up an extensive urban intervention on the wall and its adjacent spaces, which begins with the stretch between Antoni Maura street and Baluarte de Ses Voltes, and goes on with the subsequent stretch of Portella, the Baluarte de Berard and the redevelopment of Llorenç Villalonga square.
Within the fifth phase of an extensive scheme for the city wall of Palma and its adjacent spaces, the project recovers a former military site and transforms it into a public balcony with views of the bay and the sea.
In this fifth phase, the project recovers the original section of the Renaissance wall, built on the Arab one when the Mediterranean was threatened by Turkish power after the fall of Constantinople (the works were promoted by the then Prince Philip – future Philip II –, and the Baluarte, completed in 1606, is named after him). This phase also included the demolition of several military premises (the area became part of the municipality in 1998 after an agreement signed with the Ministry of Defense), including apartment blocks of seven and eight stories, which went up by the Baluarte.
The elevated area that remains from the Baluarte is recovered as a public promenade via new accesses with ramps and stairs. The slopes are clad with sandstone blocks and Santanyí stone along the edges. All the levels are landscaped and connected, and also with the old moat that is linked with the Parc del Mar promenade. Ramps, stairs and retaining walls connect the different levels and link up with the other project areas that have already been completed: urban furnishings, landscaped areas... The project also includes the restoration of the outer facade of the wall surfaces onto Gabriel Roca avenue. In the future, a new tree-lined square and a visitors' center for Palma's historic quarter will take up the void left by the apartment blocks.
The whole intervention achieves a uniform image thanks to the use of the same materials – 'marés' sandstone and Santanyí stone – and the use of one single type of pavement, built with Palma-type pavers in a sandstone hue. The shape of these pavers, designed by the architects themselves, draws inspiration from the forms of the city wall.
Cliente Client
Ministerio de Fomento, Ajuntament de Palma
Arquitectos Architects
Jose Antonio Martínez Lapeña, Elías Torres Tur
Colaboradores Collaborators
Pau Badia, Alexandre Borràs, Pepe Bru, Borja-José Gutiérrez, Sol Jaumandreu, Yuki Kotake, Francesc Martínez, Roger Panadès, Luis Valiente; Guillem Julià (arquitecto técnico quantity surveyor)
Consultores Consultants
Ana Pérez de Eulate (técnico asesor municipal municipal consultant); Magdalena Riera (arqueología archaeology); Consulting Oficina Tècnica Lluís J. Duart (instalaciones mechanical engineering); Static - Gerardo Rodríguez (estructuras structures)
Contratista Contractor
Pavimentos y Hormigones Carreras + Refoart
Superficie Floor area
5.332,56 m2
Presupuesto Budget
3.012.178 euros
Fotos Photos
Gabriel Ramón, Estop Fotos Aéreas, Martínez Lapeña Torres Arquitectos