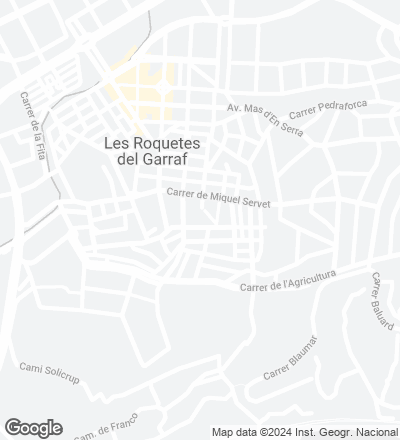 With the purpose of establishing a physical connection between the self-built settlement that emerged in the sixties (today a neighborhood known as Las Roquetas) with the more recent expansion of Sant Pere de Ribas, the municipality decided to generate a new center of attraction in an empty lot in the urban center. With this in mind, the project design is presided by a public square, whose development includes an underground parking area and municipal facilities that have already been completed. The residential program contemplated in the project proposal will be fulfilled in 2006.
The Town Hall – drawn up as a distortion of one of the built sides of the public square by which it stands – is a new reference point in the area, an element to link up the self-built neighborhood of the 60s and the city expansion. 
The building that houses the municipal premises has been conceived as a distortion of one of the built sides of the square, altered so that it acts as an extension of Federico García Lorca street, it makes the pattern of Pere II penetrate the public space and it singularly rounds off the perspective one enjoys from the church on Sagunto street. This distortion of the built edge is particularly significant in the dense and reticular pattern of the original settlement. The self-built dwellings showed a singular sequence of courtyards, terraces, pergolas as well as rich vegetation that enhanced the relationship between interior and exterior. This original characteristic of the neighborhood, that the more recent housing blocks not always preserved, is recovered thanks to the white architecture of the municipal project. In this way, the building is divided into volumes of different size organized around an interior courtyard – presided by a sycamore tree that provides shade in summer and lets the sunrays through during winter – that gives access to all the different premises.
. The ground floor contains the municipal offices, court and an exhibition gallery that can also be accessed from García Lorca street. The local police station is also on this floor, but it is reached from the square. The upper floor accommodates the Mayor's offices and the assembly hall from which one can step out to the balcony overlooking the square. The stairs that link these two levels run parallel to a large window cut out of the facade to generate a sort of public lookout from the building onto the city. A third underground level also houses offices and local police premises – open to smaller courtyards that they share with neighboring housing blocks – and a core of connection with the parking located underneath the square.

Cliente Client
Ayuntamiento de Sant Pere de Ribes
Arquitectos Architects
Lluís Clotet, Ignacio Paricio
Colaboradores Collaborators
Santiago Loperena, Jordi Julián Jené, Javier Baqueró, Cristina Ferrer
Consultores Consultants
Jesús Jiménez, NB-35 (estructura structure); Josep Martí, Miquel Camps, OIT (instalaciones mechanical engineering); Bet Figueras (paisajismo landscaping); Toni Cumella (cerámica ceramic)
Contratista Contractor
FCC
Fotos Photos
Lluís Casals