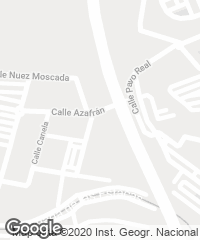 The proximity of a highway, though slightly burrowed, conditions the project from the beginning. An acoustic cushion formed by an earth mound materializes the first part of the project, becoming a forest of pine trees that emulates others in the area, and creates a visual barrier in an area filled with tourist accommodations.
A second decision is that of building a bold piece parallel to the highway, gathering, in one line, the permanent classrooms (compulsory education and high school). This volume, 220 meters long, rests on a series of small buildings of concrete and glass, creating a landscape of its own that makes one forget the immediate context. These pieces at ground level are organized in autonomous, program-based packages that follow one another transversally to the upper piece, generating a sequence of interlinked open courtyards that connect the entire premises, creating different gathering spaces for students. The configuration of these spaces, defined by structures, stands, parterres, steps, stairs, trees of different flowering, and floor treatments, permit different activities. The gymnasium organizes the sports area and is transformed into a covered square opening up its facades to the fields and the pine tree grove. All these elements help to understand the free space of the plot as a true park amid a dry landscape.
The structure underscores the concept of building and consists of a series of concrete screens rising from the floor, forming a framework of supports – independent buildings – on which two huge metal lattice beams rest, stretching along the enclosure longitudinally and defining the classroom block.
The materials show their nature, textures, and nuances. The construction on site is direct, without building elements hiding joinery or anchorages, using the maximum dimensions that can be manufactured, and systematizing the construction to obtain an efficient performance in the process and development of the executive project. Nothing is polished, nothing is completely flat, the materials try to build a friendly atmosphere, the result of a precise yet 'thick' materialization. The project avoids elaborate details and construction elements that conceal others, as well as claddings.
The classroom block is wrapped in a 'cage' of perforated sheets with different degrees of permeability, which create a thermal cushion in each one of the facades and show both the structure and the layout of the center, as well as the activities taking place in the building.
Cliente Client
CIEGSA
Arquitecto Architect
Noname 29/Alfredo Payá Benedito
Colaboradores Collaborators
Noname29/Alfredo Payá Benedito, Sonia Miralles Mud, Arturo Calero Hombre (dirección de obra site management); Sonia Miralles Mud, Vicente Pascual Fuentes, Arturo Calero Hombre, Gema Vicente Puerto (arquitectos architects); Beatriz Vera Payá (interiorista interior design); Natalia Velasco Velázquez, Gerardo Bernal Castell (arquitectos técnicos quantity surveyors)
Contratista Contractor
Bruesa Construcción, Mac-Puar Servicios Industriales, Ecisa, Aznar Serrano – Eiffage
Superficie construida Floor area
8.934 m²
Presupuesto Budget
7.953.607 €
Fotos Photos
Hisao Suzuki, Kesen Studio